Epic Pitmaster
OTBS Member
SMF Premier Member
10,240
3,003
Joined Jun 18, 2013
Hey all, as said before I'm not a good multitasker! So, was trying to make dinner and

Dutch
baked beans!
The beans are no problem, thanks Dutch!
Operator error however was the problem! Made or tried to make some pork CSR's. Put them on well in advance and at 250* thought… their good…. Well, after a bit… put the beans on! No worries… Ha!
The CSR's got away from me…. Here's what I ended up with!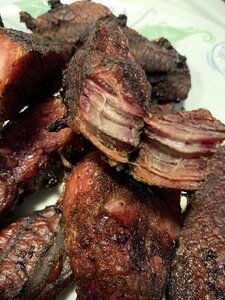 Toasted! We will make some chili out of them, just not what we planned!
My wife challenged me to post this as it's beyond a perfect meal… though all will be eaten.
My point is I have good smokes and ones that don't turn out as I like! This is one! I'm human and flawed!
Thanks for lookin all, appreciate y'all!
Last edited: