Smoking Guru
OTBS Member
★ Lifetime Premier ★
5,779
2,770
Joined Dec 30, 2016
So I believe I have nailed my Texas Hot Link (Hot Gut) Sausage recipe!!!! QView and then a ton of info.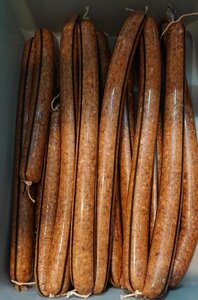 I've been working on this recipe to try and nail a true hot link sausage like the kind I've gotten in Texas. Texas style sausage usually has some beef in it, plus this sausage has the Texas hot link flavor I've loved but seem so hard to find these days.
If anything would be tweaked in this recipe it would be more/less salt based on your taste. Oh also more/less Cayenne based on your heat sensitivity. This is a hot link with some heat to it.
It may be a hair too hot for some but should be fine for people who love normal buffalo sauce heat level or just a hair hotter.
Details:
60% Ground Pork Butt, 40% Ground Beef (73/23 was on sale at the store so used that)
Skinless sausages using 31mm cellulose/plastic casings from The Sausage Maker
Stuffed to be 20inch long links and then cut them in half to vac seal
8.75 pounds of meat to make this batch of sausage (thought I was making 10 pounds but apparently my defrosted ground pork and beef was lighter than I thought lol)
70% Apple, 30% Hickory smoke applied for about 3.5 hours (1 row of AMNPS + rounded turn into next row)
Taken to 153-156F IT
Smoked using standard walk it up sausage temp practices with smoker going up to like 170F at the end to hit my IT's
I smoked it over night not worrying about getting to IT as fast as I could have so could have smoked it in less time but no biggie.
Did not bloom these because they had great color and I'm finding skinless sausages may not be need it with any skinless I've made so far, so saving the time :)
Ate 1 plate with just mustard, other plate with bbq sauce... it was an all hot link sausage day for me :D
Here are recipe ingredients in measurements in grams, oz, and by volume (tsp/TBsp) so you all can enjoy this if you like :)
Oh yeah I put in 5 pound and 1 pound batches. As you can see I also recorded all this for my notes in a spreasheet so I can just drop in numbers and have it calculate all my amounts of seasonings hahahah. Enjoy!!!
5 Pound Ingredients Amounts:
Ingredient
5lbs in
grams
Unit gm
Amt Vol
tsp/TB
5lbs
oz
Unit oz
Amt Vol
tsp/TB
Meat
(50/50 pork/beef, or
more pork than beef)
2,270
gm
80
oz
Water
10.00
floz
10
floz
Black Pepper, course
12.50
gm
2.50
TB scant
0.44
oz
2.50
TB scant
Red Pepper, crushed
5.00
gm
1.50
TB
0.18
oz
1.50
TB
Cayenne, ground
5.00
gm
1.00
TB
0.18
oz
1.00
TB
Paprika, ground
7.50
gm
2.00
TB
0.26
oz
2.00
TB
Garlic, granulated
12.50
gm
2.00
TB
0.44
oz
2.00
TB
Kosher Salt
1.63% with cure and total weight
37.50
gm
2.00
TB
1.32
oz
2.00
TB
Erythritol
15.00
gm
1.25
TB
0.53
oz
1.25
TB
Mustard, ground
2.50
gm
1.25
t
0.09
oz
1.25
t
Coriander, ground
2.50
gm
1.25
t
0.09
oz
1.25
t
Thyme, ground
2.50
gm
1.25
t
0.09
oz
1.25
t
Bay Leaf, ground
2.50
gm
1.00
t
0.09
oz
1.00
t
Fennel Seeds, whole
0.75
gm
0.63
t
0.03
oz
0.63
t
NDFM (NonFat Dry Milk)
22.50
gm
4.00
TB
0.79
oz
4.00
TB
Cure #1, 156ppm
(cure#1/instacure #1/prague powder)
5.68
gm
1.25
t scant
0.20
oz
1.25
t scant
Total
2699.66
gm
95.15
oz
----------------------------------------------------------------------------------
1 Pound Ingredients Amounts:
Ingredient
1lbs in gm
Unit Wt
Amt Vol
tsp/TB
1lb in oz
Unit Wt
Amt Vol
tsp/TB
Meat
(50/50 pork/beef,
or more pork than beef)
454
gm
16.00
oz
Water
2
floz
2
floz
Black Pepper, course
2.5
gm
0.5
TB scant
0.09
oz
0.5
TB scant
Red Pepper, crushed
1
gm
0.3
TB
0.04
oz
0.3
TB
Cayenne, ground
1
gm
0.2
TB
0.04
oz
0.2
TB
Paprika, ground
1.5
gm
0.4
TB
0.05
oz
0.4
TB
Garlic, granulated
2.5
gm
0.4
TB
0.09
oz
0.4
TB
Kosher Salt
1.63% with cure and total weight
7.5
gm
0.4
TB
0.26
oz
0.4
TB
Erythritol
3
gm
0.25
TB
0.11
oz
0.25
TB
Mustard, ground
0.5
gm
0.25
t
0.02
oz
0.25
t
Coriander, ground
0.5
gm
0.25
t
0.02
oz
0.25
t
Thyme, ground
0.5
gm
0.25
t
0.02
oz
0.25
t
Bay Leaf, ground
0.5
gm
0.2
t
0.02
oz
0.2
t
Fennel Seeds, whole
0.15
gm
0.125
t scant
0.01
oz
0.125
t scant
NDFM (NonFat Dry Milk)
4.5
gm
0.8
TB
0.16
oz
0.8
TB
Cure #1, 156ppm
(cure#1/instacure #1/prague powder)
1.135
gm
0.25
t scant
0.04
oz
0.25
t scant
Total wt
539.93
gm
19.03
oz
Last edited: