Epic Pitmaster
OTBS Member
SMF Premier Member
★ Lifetime Premier ★
10,684
7,164
Joined Dec 14, 2013
Just a quick post . I did this last week after digging thru the freezer . Had a vac pack roast from a beef knuckle I broke down . Threw it in the SV from frozen .
132 for 28 ( ? ) hours . This was better than the chuck or the eye for taste and texture in my opinion . The knuckle has really good beef flavor .
Just a couple pics of the cook .
Right out of the water ,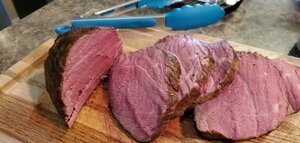 Plated up ,
Next days lunch . Served cold on some slider rolls .
Really tender .

jcam222
I saw you make a comment about a rack and thought I would
put this up . This is what I use .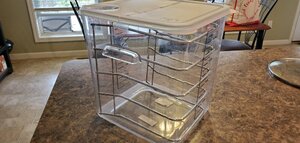 This is a sheet pan storage rack I got at Lowes in the kitchen storage
area .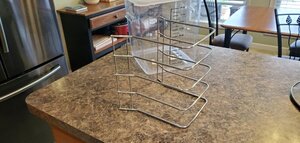 It's missing the middle bar , but I clip the bag to one of the bars ,
or use a rubber band stretched across the middle .
You can see it just over the bag .
This works really well .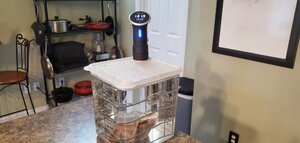 I'll add this in too .
Cleaning the stick style cookers .
I use an old flower vase . That way I use less vinegar .
This is after a few cooks . Really hard water here .
I pour in some vinegar , maybe a cup . Then
fill the rest with water . Not to much or it will overflow .
Put the unit in and let it run awhile .
Does a good job .