Began this past Sunday with happiness and anticipation for an easy day with little going on. Day turned out fine, but it was not without some complications to keep life interesting. Started the brisket the day before with some Jeff's TX Rub. We get half a beef a year, so I needed to make room for new beef. I think the brisket was around 11 lbs and did not have to trim much.
So at 7:00 am with barely any day light this went on the GMG with a goal temp of 275. I do not trust the factory temp so I had my ink bird also checking grate temp. Things started going south about an hour in. I went ahead and plugged in another probe into the ink bird and added my Temp Spike for it's 2nd run. Within a short time my older ink bird probe was registering close to 205. I knew by time, and looking at the meat it was still raw. So took that probe out and tried another...same thing. So at this point Temp Spike is good, 2 older probes are not working. Had a new, never used left in the box. Didn't think I'd ever need to use a 4 probe gauge but glad I bought it. So new probe is looking accurate, time to relax a bit.
I guess not. There was no fire, brisket still fine and smoker is rolling along at 275. Removed the Temp Spike and kept on. Around 11:30, ink bird at 200+ so I probe around and brisket feels pretty good. I was very surprised that I was done cooking at 4.5 hours. Okay, lets go with Plan B into the oven after another temp check with handheld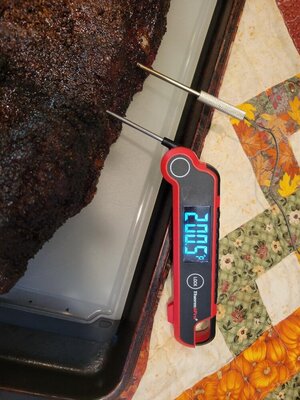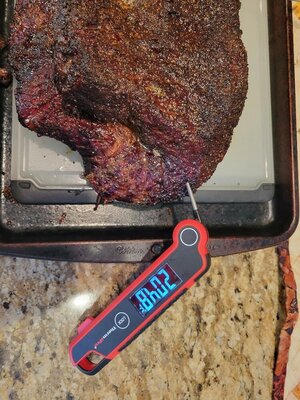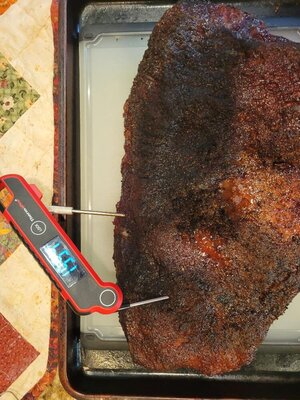 So the lowest my oven will goes is 175. I let the brisket cool to around 155 and covered with foil into the oven. Added a thermopro probe from my TP-20 along with ink bird to confirm oven temps. I guess for the next several hrs I will be turning the oven off and on to keep brisket above 140. Time to check existing Rubbermaid therm. Hmm..does not feel like 300 degrees in my hand. Guess it goes in the trash.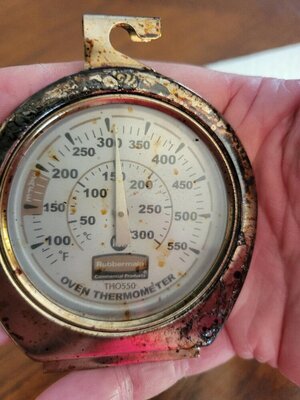 So I managed to babysit the oven most of the afternoon until dinner time. Brisket was pretty good. I have made several, and have not had a terrible or wonderful one yet. Glad I survived and still have a few working therms left. I will be doing a boil test on the 2 probes and Temp Spike soon.
.