Epic Pitmaster
OTBS Member
SMF Premier Member
★ Lifetime Premier ★
10,732
7,214
Joined Dec 14, 2013
Been making good use of trim from all the cryo vac'd meat I've been buying . This time I got about 4 pounds from a pack of pork cushion and a 3 pack of whole spares . I have no problem breaking out the grinder and stuffer for small batches . I enjoy making it as much as eating it .
Did a couple pounds of breakfast using a mix from Owens BBQ , and some wiener sausage in 22 mm sheep casings . Seasoning from sausage maker .
Anyway ,
Trimmed all the cushion up . There's 5 sections in the bag . Saving these for roast or PP .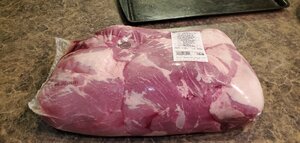 The rib trim was pretty lean , so I ground that and the cushion trim then mixed it together before I divided it up .
seasoned each batch and stuffed right away , then held over night . If I wait to stuff with the small horn , it's a disaster .
Last time I did that I ripped the counter top off the base cabinet .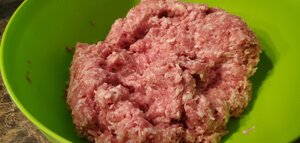 I knew it was going to go good . Sheep casing pulled right out of the bucket , opened up , rinsed and slid right on the tube .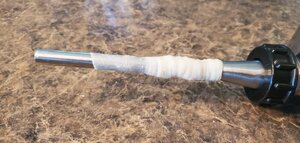 Breakfast all stuffed . Got 20 links .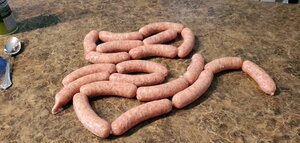 Cooked some up this morning . Really good .
I added some dextrose to help with the browning .
Pancakes and taters from the Blackstone .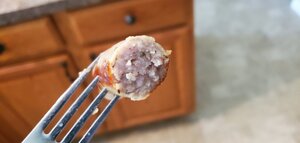 Wieners all stuffed up . I went with a long link . I'm used to 4's or 5's , and the sheep casings just look so small .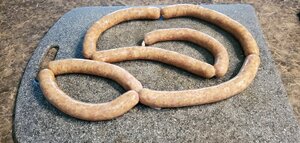 I dried under the fan this morning and hung them in the 30 while I made breakfast .
Hung at 120 with beech pellets rolling smoke .
That was 7:00 . Was talking in a thread and
SmokinEdge
mentioned hotdogs .
I completely forgot about them .
At this point they've been at 120 for 4 hours .
Good color , but starting to shrivel .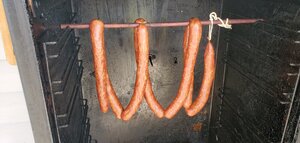 So I pulled them and put in a pot of water .
Bring the water to a boil , remove from heat .
Add sausage and put the lid on . Smells like hot dog water .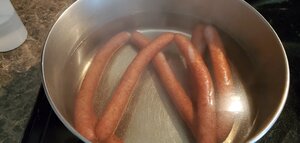 Gave a nice adjustment to the color also .
Cooled in some cold water .
That mix is really good . Has great flavor .
I just do a good mix by hand , grind was small plate 1/8 "
One pass . I never do 2 . Tried it once . That was enough .
The texture is perfect for what I like .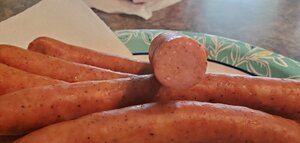 Saw the thread by SmokinEdge the other day and figured I'd revisit some hotdogs .
They're always good , but I buy an Angus beef frank from GFS that we like , so I just
don't make them . I can see that might change though .
Thanks for lookin .