Legendary Pitmaster
Original poster
OTBS Member
SMF Premier Member
Smoked Chicken Club House Pizza
I said I was going to make something with the rest of the Smoked chicken. Well here it is
Made a batch of dough, enough for 2 - 12 pizzas. Put half in freezer for another day and whatever pizza.
Shredded the chicken and cooked up the bacon so pizza not so greasy.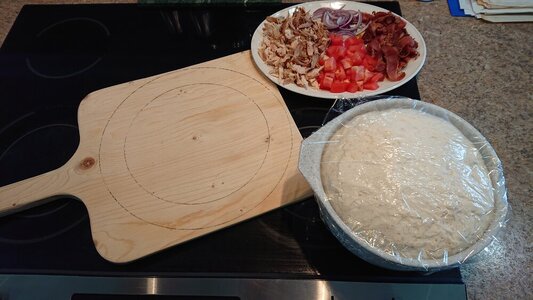 Let the dough raise for 1 1/2 hours until doubled, Cut in half , freeze one for later.
Flour counter and stretch out to 12" place on my paddle. Squirt on some Ranch Dressing spread out.
Fill pizza with the chicken , little mozza. on that . Than add the bacon and tomatoes ( little Red onion , I like onions )
And the rest of the cheese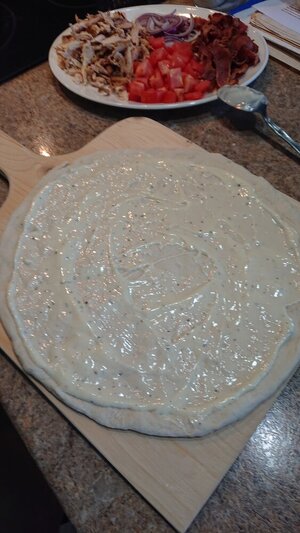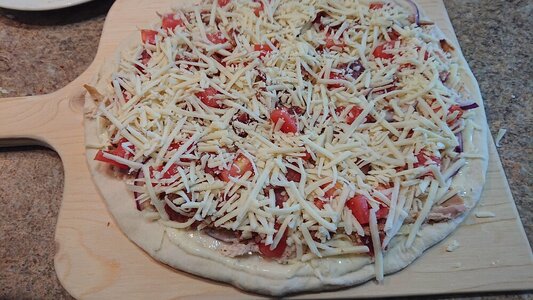 I had the BBQ running for about 40 minutes or so with the stone in place , have to let the stone warm up slow, and it must be to temp for the dough to cook right.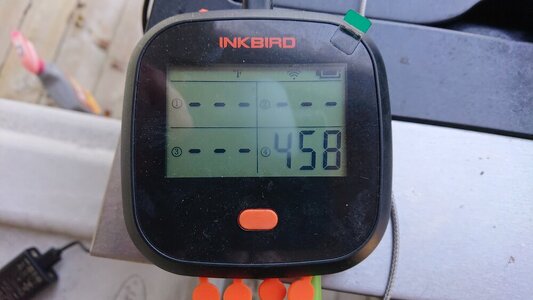 Tried to keep it near 450. Here it is ready to go in the house for the toppings
So for a Club House you need lettuce, this worried me so I knew it was going on after the cook, but still not sure how I would like it so , only on half.
And a nice lather of more ranch dressing
This is for my Brothers from other mother's,

tx smoker
and

gmc2003
,
JLeonard
and others lol
Well I must say , the lettuce and the Ranch Dressing were pretty good and this will happen again
Everyone was happy, and it did not last long , well it was only a 12" pizza
And that is the end of my Mesquite smoked chicken
Thanks for following along, everyone have a great Friday night.
David