Today's progress, I got the smoke tubes connected to the stainless box. Someone should have warned me how difficult it is to drill into stainless steel. Maybe not, then I may not have decided to do it.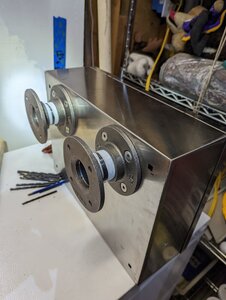 The holes on the inside between the four nuts is where I will cut the hole for the smoke to flow tomorrow. I have to figure out how, I think I will use my skill saw and a bunch of blades, how ever many it takes. I had no idea how hard it was to drill the stainless, Had to buy a new set and probably ruined all of them.
I have to be efficient as tomorrow is a big game for the USMNT for qualifying for the world cup late this year.