Epic Pitmaster
OTBS Member
★ Lifetime Premier ★
12,641
9,720
Joined Dec 14, 2013
Made a bunch of homemade ravioli a couple weeks ago , and realized I was out of sausage . So an idea to make a couple pounds of Italian turned into a production . Ended up with 3 pork butts and a beef knuckle . Trimmed up and packaged the sirloin roast from the knuckle , and saved 2 pounds of clean trim for sausage .
Been doing some reading on Meats and sausage website , and have been wanting to try the method of pre curing the meat cubes before grinding .
So I cubed up 2 of the butts , one went to the freezer . One went for grind , and the 3rd got salt and cure added to the chunks .
That's where I got out of whack . I have my system down for doing this . Bone out , trim and clean up , then grind and season and clean up one day . Second day gets stuffed , third day is smoking if needed .
However , now I'm waiting on 9 pounds of meat chunks to cure . So I had to bite the bullet and do it twice . Once for the fresh sausage and then again for the cured and smoked stuff . I usually breeze through this anymore , but this turned into a chore .
Anyway . Had 9 lbs. of grind for fresh . Did 5 lbs. Italian herb and cheese .
That's a Sausage maker mix . I add white wine and some fennel . Skip the motz cubes and go heavy on the Romano .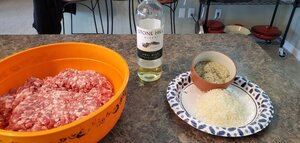 All mixed up . Nice and sticky .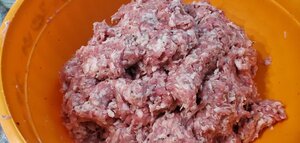 Didn't have time to stuff , so grabbed a pound out of the bowl and
cooked it in bulk . Smells so good .
Added to the sauce and had some Rav's .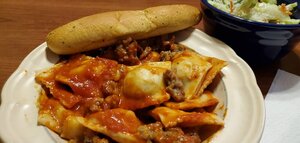 Next day got it stuffed . My 5lb. Lem is on it's last leg . I've been limping it
along for awhile now . This run did it in .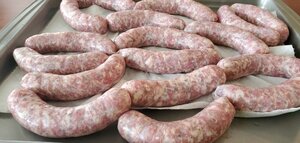 Also did 2 1/2 pounds of Hot links , and 2 1/2 pounds of chorizo .
The chorizo is a AC LEGGS the hot link is a marianski " Texas hot link " recipe .
No cure . I add a 1/4 tsp of Carolina Reaper powder to the 2 1/2 pound batch .
I've done it both ways . Cured and smoked , no cure and grilled . Both good , but makes a great grilled sausage .
Hot links on the left , chorizo on the right
Ok , so back to waiting . Normally I'd be done by now .
Been 48 hours in the cure at this point .
This was all done first . Before any grinding or mixing .
Weighed out the salt and measured and mixed in the cure 1 to the cubes .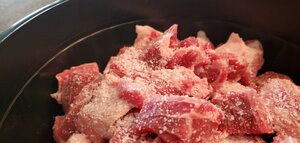 Mixed it around good and pressed it down tight .
Plastic wrap down tight to the meat so no air gets to it .
Then into a 36 degree fridge for 3 days .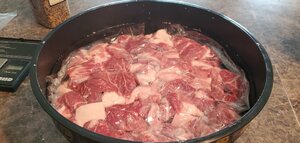 After 2 days I was getting impatient . I grabbed a couple chunks and put them in the air fryer .
Looking good , and they had great flavor .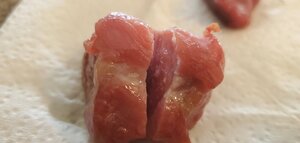 So I went ahead and ground it up . Had 2 pounds of beef chunks
curing also . Ground it all , kept it separate and back in the fridge for another day .
At this point I remember my stuffer is on the I R . So I had to tear it down and go get some replacement parts .
That took another day .
So now this is actually day 5 I think . Whatever it was , it was to long .
Decided to go with a couple chubs of Krakauer from Marianski and some type of smoked sausage .
I used the beef and pork 50/50 for the Krakauer . The smoked sausage was all pork
Thought I had a pic of the chunks pre grind , but this is packed in the stuffer .
Fully cured and really sticky .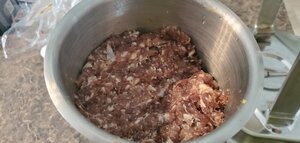 So I my rush , I ground all the chunks and didn't have any show meat for the Krakauer .
To the base recipe I added pureed ginger ( heavy ) ground caraway and fresh garlic .
Turned out like Summer sausage .
Stuffed and warming up on the counter .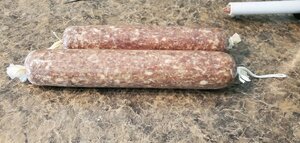 Got the MES set to 130 . Beech pellets in the 12 " tube .
Added some cherry for color .
It's already 11:00 am . Just getting it hung .
Now I get to mix and stuff another 5 lbs. of smoked sausage .
I ended up doing a hot smoked polish and Andouille combination from Marianski .
Quick note here , I have a kielbasa pre mix that I really like , but can't use it because I already have the salt mixed in .
I went heavy on the garlic and black pepper .
No pics of this before smoking , but I hung some in the 30 with the chubs , and the rest went on the smokefire pellet .
Ran the pellet in smoke boost . Couple hours it was ready .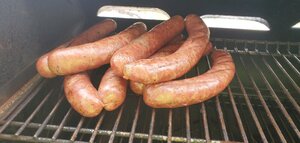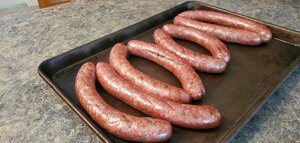 Ran the MES for 3 hours . Started the smoke after an hour dry time .
Stepped up to 140 for 30 minutes , then steps to 160 'til 150 internal temp
is reached .
I pulled the smoked sausage and finished on the stove in 180 degree water .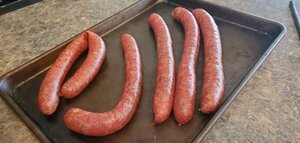 Side by side . MES on the left , SmokeFire on the right .
The pellet did a good job . I think .
Cut pic . You can see the black pepper .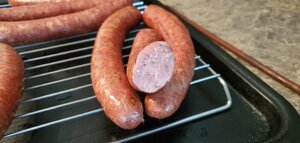 Check on the chubs . Taking on some nice color .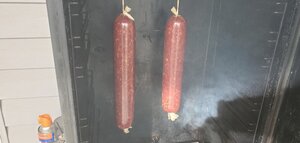 Took right at 7 hours to hit 152 internal .
Pulled and ice bath to 90 degrees . Then I hung them at room temp
for 4 or 5 hours .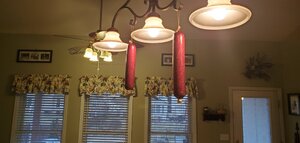 You can see the ends that were close to the heat source .
The smaller one was over the element . Don't normally do that .
Cooled down and into the fridge over night .
Sliced up the next day .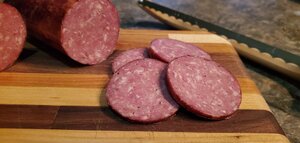 This was fantastic . The smell is over the top .
Just has a smokey cured smell to it . Fantastic color and texture .
The extended cure time really adds to the flavor and over all quality .
Pre curing the cubes is worth it in my opinion and I'll be doing it again .
Just need to plan for that and do it separate from fresh .
At this point I'm on day 7 for the slice . Worth every minute now . At the time I was done .
Had some of the smoked sausage too . It's the same . Fantastic smell , taste and texture .
That's it , finally .
Last edited: