Epic Pitmaster
OTBS Member
SMF Premier Member
★ Lifetime Premier ★
11,106
7,685
Joined Dec 14, 2013
Yup . I'm just putting it out there that there are different styles . I agree with a small amount of cure or a short cure time then pressure cooked or something . The OP's comment about " missing the point " made me think he was looking for that type of " Deli " roast beef .
In my opinion Deli or Deli style implies to how it's sliced .
The ingredient list for some of this reads like a chub of summer sausage .

chef jimmyj
Here's an example you may find interesting . This is an eye round that was seasoned with Canadian steak seasoning , vac'd and put in the freezer .
After 6 months or more , I thawed it and smoked to 120 IT .
To my surprise it was some sort of " cured " . Something in the seasoning had that effect on it .
Another example smoked to the same 120 IT .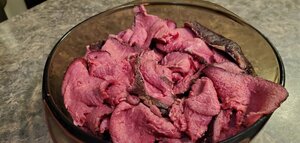 No cure 1 was used in either one .