Epic Pitmaster
OTBS Member
11,211
3,253
Joined Apr 4, 2013
Its been a long time since my last post and I have posted these before. I just thought I would show you I could still smoke.
This is an old roast from the freezer. I buy stuff when on sale and throw in the freezer as long as I play to smoke it, pork crown roasts, pork chop roasts, blade end roasts, etc. This just happened to be a boneless prime rib roast.
Since it was boneless, it would losen and fall apart while smoking leaving hot and cold sports so I truss/binded it up, that helps maintain the density so it will cook more evenly.
The only rub, spice, marinate, spritz, or mop used was Kosher salt and cracked black rubbed in.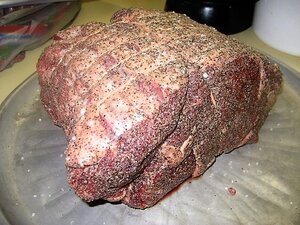 Then into the reefer overnite to dry a little.
Today, preheat smoker to 275, while loading an Amazin Oval with apple and started it smoking.
Reduced the Temp to 210 F. Loaded the roast in the smoker, added in the Oval, probed it & closed the door.
In two about two hours, I came back to check to insure it was at temp and the oval was smoking properly.
I pulled it at a 145 IT, and wrapped it in foil & with maybe 1/4C of flavored juice.
It rested 45 mins and traveled to 150 degrees.
Break out the good knife!!
I smoke low and slow because as always, the meat melted like butter in my mouth. I like to smoke long enough so the internal fat is like a good brisket fat all jiggly and the salt and pepper crust (end pieces) Were to die for!!
I'll show you one more time to insure your salvia is flowing!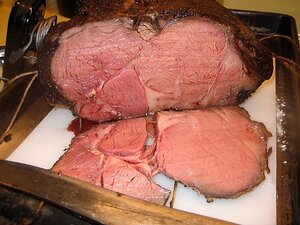 Steak was the meal and good thing too, all I had to accompany it was from the garden, green peas and carrots, salad & and some light bread rolls.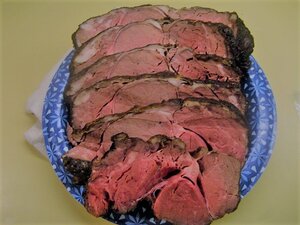 Thats it, the weather is cooling off and maybe I can get back to smoking again.
BTW I bought a new smoker, and don't like it, sooooo..... I pieced together parts, spent a whole day rebuilding one of my broken ones with all the horns and whistles I wanted. AND IT WORKED !!!!
There isn't too much you can say about a ribeye roast, just really simple and easy. Just salt and pepper and a little smoke. I didn't even break out the good china to eat on. LOL
Football season is here, so its time to smoke!!