SMF Hall of Fame Pitmaster
OTBS Member
SMF Premier Member
Group Lead
45,030
17,714
Joined Sep 12, 2009
I have been eating "Prime Rib" at every restaurant I could find, all of my life, and I have never tasted one this good.
That might sound like bragging, but it is entirely TRUE!
Five pound "Choice" standing rib roast for $5.95 per pound on sale.
I finally couldn't take it any longer. I saw too many Prime Rib smokes on this forum.
This one was actually "Choice", but please excuse me for calling it "Prime Rib" (Habit).
Prime Rib has always been my favorite meal.
This one was by far the best Prime Rib I have ever eaten!
From My Notes:
Day #1:
Coat with Worcestershire Sauce (Thick).
Rub with a mixture of CBP, Sea Salt, Garlic Powder, and Onion Powder.
Double wrap in plastic wrap.
Put in fridge over night at 37˚/38˚.
Day #2:
10:30--Pre-heat MES to 260˚. Put boiled water in water pan, small drip pan on third shelf, and load A-MAZE-N-SMOKER with Cherry Dust.
11:30--Put roast on second shelf, and light AMNS, and put that in. Reset heat to 230˚.
1:00---Sterilize meat probe, & insert into center of roast. Temp at this point was 75˚.
2:00---Roast internal temp--101˚.
2:30---Roast IT--118˚.
3:00---Roast IT--130˚.
3:30---Roast IT--137˚.
Want to eat at 5:00 PM.
Remove Roast, double foil, and put back in smoker. Remove AMNS.
Cut heat setting back to 140, open door until temp in smoker is at about 160˚.
4:45---Remove Roast. Let it rest, take pics, and slice for Supper & left-overs.
Coasted from 137˚ to 142˚---Just the way I like it!
My thanks to Pineywoods for info I got from his Prime Rib smoke, and to bbally for some tips I got from him.
Bear
Simple rub
of CBP, Sea Salt, Garlic Powder, and Onion Powder: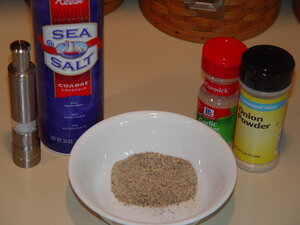 Five pounder:
Scored thin fat cap: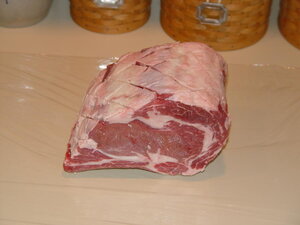 All rubbed for night's rest: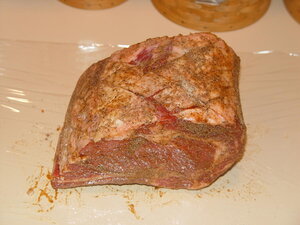 Wrap to hold in the goodness:
Ready for the smoker: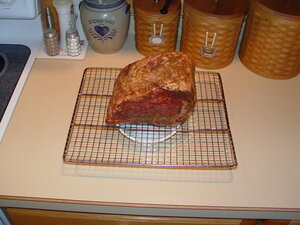 Fresh out of smoker & foil:
Slurp:
Thursday's Supper: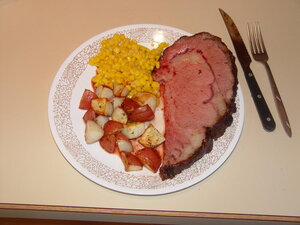 Thanks for looking,
Bear
Last edited: