Smoking Guru
Original poster
OTBS Member
SMF Premier Member
Well, made it through the storms last night unscathed. Had some scary moments with the tornado sirens going off all around us. But, at least for us, all is well.
had some sausage that needed to get used. So I said, "self, how about a breakfast sammich?" And self agreed that it was a mighty fine idea.
So gathered supplies and off to the griddle we go.
Toasting up the bread.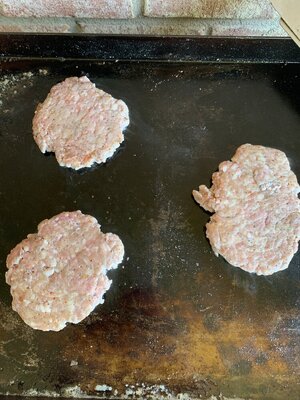 A pound of sausage in 3 Pattie's. Done smash burger style. In retrospect should have have made smaller patties. Oh well live and learn.
Eggs in the silicon rings. Perfect sammich sized.
finished product and the cut shot. Like said, the Pattie's were a bit thick. But the belly is full. God gave us a beautiful day after the storms of last night. And now to think about the chicken gonna cook later.
Thanks for hanging through this.
Jim