I bought 18 pounds of 80/20 beef when it went on sale for $1.99 like a month ago and about a week ago I used it to make Owen's German Bologna!
The main reason for this post is so I can easily find the seasoning measurements as it can be confusing since Owen's provided different measurements vs what the seasoning stickers say on the package
. The instructions they sent me are great flavor, the package instructions would be waaaaay too salty and too much seasoning (not too much cure though).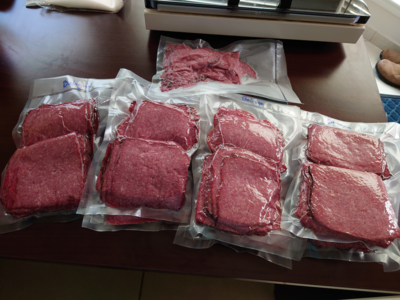 I formed it into big rectangular logs then cut them into 4.25 inch x 4.25 inch blocks so they would be sandwich size.
I smoked following regular sausage practices except this was not stuffed into a casing because I wanted bread sized slices.
I burned 2 rows of 100% Lumberjack Maple Pellets at the same time for smoke. It was more smoke flavor than most bologna but damn it's good.
Here is the measurement by weight that I converted from their by volume instructions and have confirmed a few times over now.
This information scales up from 1 pound to at least a proven, 6 pounds, and now 18 pounds. Using proof by induction (math nerds out there?) it these seasoning measurements should work for any number of pounds.
1 Pound of Owen's German Bologna Ingredients table
Ingredient

Amount Weight (gm)

Notes

Owens German Bologna Seasoning

6gm

Does not contain binder so add that separately.

Owens Maple Cure

8gm

Comes as separate pack with seasoning, is like Tender Quick and is not cure #1 alone but a blend of things and cure #1.
You must use the Maple Cure to get the full flavor they intend. You likely wont get the intended flavor if avoid the Maple Cure and just use cure #1.

NDFM (binder)

4.5gm

No binder in the seasoning so buy it separately and add it to the mix. You can use a different binder but I don't have measurements for it, simply use recommended amount of binder for 1lb of sausage or convert this to your type of alternative binder.

Water

1-2 floz

They give a range I broke it down to 1-2 floz per pound and worked out great so no guess work needed anymore :) (typed wrong number earlier, correcting now)

Sausage Meat

1lb

I used 73/27 ground beef because it was on sale at the store and I didn't want to grind anything for my test runs. This was an was an easy, fool proof, cost effective strategy for a trial run :)
IMPORTANT TO KNOW:
When using these measurements, you will use up all of the maple cure before you use up all of the seasoning. DON'T try and reduce maple cure as cure is the thing that keeps the meat safe!
Packaging measurements are different from the print out of measurements they suggested I follow. If someone follows the measurements on the packing sticker instead of the print out they provide then you will have overly salty bologna
No binder seems to be provided so add your binder of preference, NDFM measurements provided above since it is the most prevalent binder used
The bologna flavor is great!!!! Just be sure to try the measurements above via a fry test and add more plain seasoning if needed (not more maple cure!)
I highly recommend the Owen's German Bologna for it's flavor. Just be sure to follow these measurements as a base and adjust seasoning (not maple cure) to your taste. Enjoy! :)
Now more pics from my previous Bologna making with this seasoning: