Meat Mopper
SMF Premier Member
293
436
Joined Sep 5, 2020
It started with a recipe for pork adobo I found in the June/July issue of Wine Enthusiast. It was a free subscription, and well, I really do like wine.
It included pickled carrots, peppers, onions, and a papaya. Whoa, never done that before. Two days in advance, I julienned the veggies and fruit. Mixed up the pickling juice and let it do it's thing, whatever that is.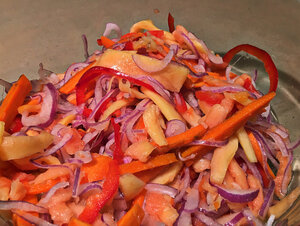 The next day I made up the marinade. It seemed very familiar, very similar to the marinades I use for smoking. They called for pork belly, but I switched to pork shoulder. The cuts at the meat market looked a lot leaner, but still had marbling for flavor. I trimmed and sliced into half inch thick portions. The meat marinaded for 24 hours.
On dinner day, I grilled the meat, turning and basting every two minutes until they reached 145 degrees.
I served the meat on a bed of rice with the pickled veggies. Oh my goodness it is good. I paired it with a 2012 Columbia Valley Primitivo. Perfect!
Damned if you guys aren't teaching me how to cook!