Epic Pitmaster
OTBS Member
SMF Premier Member
10,215
2,992
Joined Jun 18, 2013
Hey all, been a bit since I posted…. Work has been busy! Anyway, got the chance to cook today! I will apologize of the lack of prep pics as we were doing other projects while cooking… apparently multitasking is not my strong point!
Idaho baker russets cooked on the smoker til just about 3/4 of the way done… pulled, wrapped in thin sliced bacon and back on smoker til bacon was almost done! Pulled off to scoop out the insides… mixed the insides with a cube of butter, a few slices of fried up bacon, a blend of 4 cheese shredded and some rub courtesy of my friend
Brokenhandle
. Put back on smoker to let cheese melt, then pulled and topped with a sour cream, BBQ sauce topping (aka, lava) and fresh chopped chives!
The NY strips were cooked to medium rare on my sons kettle! These were sliced and topped with a compound of a stick of butter, some fried and chopped up bacon bits and some fresh chopped chives!
Again, sorry for the lack of pics… but here's what we ended up with!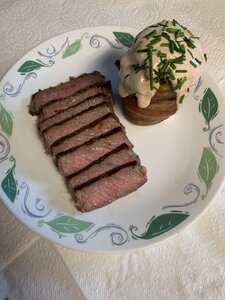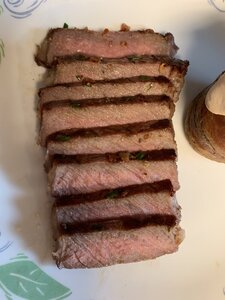 All in all, everyone seemed to enjoy! Thanks for lookin all!