Master of the Pit
SMF Premier Member
2,053
1,427
Joined Jan 27, 2021
My Labor Day 2021 Throwdown Entry. Again Thank you to the voters and the judges.
I started off with a approx. 3.5 pound pork belly, scored the top coated it with onion bbq sauce , rubbed with my pork rub, than topped with dark brown sugar
In the smoker at 225-230Deg. with apple chunks for 5 hours. internal temp 160F. removed than wrapped with 1/2 cup apple juice wrapped tight for 1 1/2 hours
to 206deg. iT. Probe tender.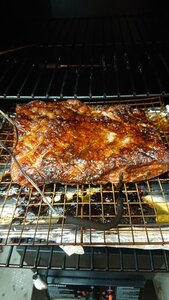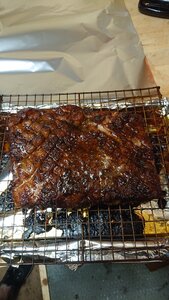 Let it cool , next day sliced and ready to use in the meal components
Made my Sweet and Sour sauce that I use a lot , I use this normally for S + S meat balls
So skip the meatball part , and I cooked it in a pot on stove. Diced up most of the pork belly
and into the pot with the peppers and onions ( I used both green and yellow and red sweet peppers ). I did remove about
a 3/4 cup of the sauce for dipping. The small white bowl on the main plate. ( just the liquid, no chunks )
The pork belly was fantastic, great flavor.
I left just enough liquid so it was not too dry in the pie , but also did not want it to pour out like water either. i let this cool while I made the rice
Cooked rice in pineapple juice, than added Gr. onion , diced small pork belly and pineapple pieces.
Smelled great. Now to make the pie crusts. It is called " Hot Water Pastry " I have seen this around before and never really tried it . I followed the way a guy from Britain who has a real neat and fun site.
He goes by " KeefCooks " he has a cooking site for years. So this is where I got the " Hot Water Pastry " only takes about 7 minutes to make the crust . It is a game changer.
So made the crusts layered the pans. Filled quite high with the sweet and sour mixture. Than the top on and pinch the edge. Did a egg and milk wash on top , for looks put ( hard to see ) I added 3 pineapple chunks and some cheese to hold them in place. Baked in the oven at 425deg. for 25 minutes
For the seared Pork Belly slices, I still had a couple pieces of the belly left, so in my CI pan fried it just like bacon and placed on a few fresh snow peas. Plated everything up , cut one pie in half to show the innerds , put rice in a bowl and flipped on plate so it was a tight mound , small cup of the S + S a couple of our cherry tomatoes and a green onion sprig flower.
Now for dessert, I have a recipe for making baked donuts that are just as good as deep fried ( well almost, everything is better deep fried lol ) I have donut pans both mini and reg size . I used reg size for this.
I cooked up 1/2 pound of bacon ( sorry chopped very small first ) diced up Med. Cheddar cheese into tiny cubes and grated 1/4 cup also for topping.
Mixed the donut batter added bacon and the cheese, put into a zip bag cut the corner off ( cheap piping bag ) and 3/4 fill the donut pans. Add the grated cheese on tops
Put in smoker at 325 - 350 deg. with apple chunks for approx 10 - 13 minutes or until tooth pick clean test.
I took so many shots of the plates trying to get the right one. It was a busy day trying to get everything ready close to the same time. All worked out Mona was happy and loved the pie. I can see many ideas for this new and easy pie crust and so many different fillings can be done.
Thanks for looking if you made it to the end.
If you want the donut recipe, no problem just ask. It also has the Apple Pie spice mixture
Again thanks for the votes and the kind words
David
Last edited: