SMF Hall of Fame Pitmaster
Original poster
OTBS Member
★ Lifetime Premier ★
Nov 12, 2010
27,110
4,919
It's gonna sit in the refer for a few days to dehydrate a bit and intensify the flavor... Then into the freezer to firm up and slice...
Burning pellet dust to get SUPER thin blue smoke...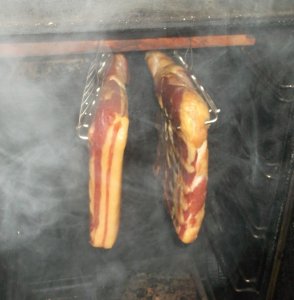 ..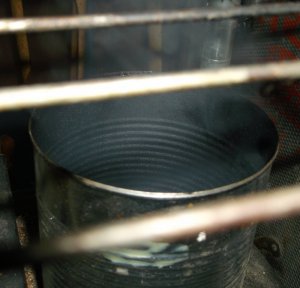 I was thinking the outside temp would allow me to keep the smoker below 70F...
Close but no cigar... I can live with it... LOL.....
OH !!! I use Bearcarvers sink screen idea to keep the stuff out of the smoker when it's not in use and still allow for air flow to "curb" any mold build up while it's sitting..
I do bake out the MES 30 at 275F, usually for an hour or two, before and after a smoke to kill all the nasty stuff that grows in it while waiting for the next load of meat, and to help clean it out at the end of a smoke....
..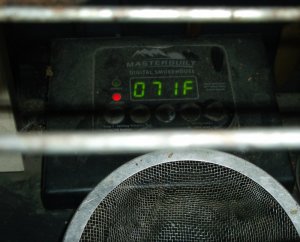 With the lightening show the other day and following rains, humidity is perfect for cold smoking...
Pellet dust smoldering... 40-40-20... Pit choice, cob and mesquite... gives a very nice distinctive flavor to any meats... It's my general purpose go-to mix...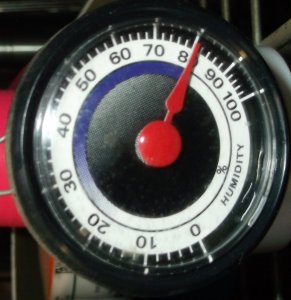 ..
The rub..
0.25% cure#1... 1.13 grams per pound...
1.75% Kosher salt... 7.9 grams per pound...
Maple sugar 1%.... 4.5 grams per pound...
Based on green weight of the meat..
Weigh out the ingredients based on the bellies you are curing..
Thoroughly mix.. Distribute uniformly... Place on wire rack on a sheet pan and refer for 10 days, up to 2 weeks... (7 days per inch thickness)
Lightly rinse... pat dry... form a pellicle on the meat either in the smoker, no smoke, at ~110 ish for an hour or 2... or in front of a fan in the house on the wire rack...
You need to warm the meat so it is above ambient so condensate will not form.. Meat must be dry before smoke is added...
Refer again on the wire rack... let "bloom" for up to 1 week...
freezer for 2-3 hours to set the meat for easier slicing...