150
134
Joined Dec 17, 2019
Hey Y'all,
I just wanted to do a quick write-up on my new Lifesmart 22" Kamado style grill.
I am in no way affiliated with Lifesmart, but did not find any information when I searched here on the forum.
The Grill: this is not meant as a direct comparison to any other Kamado style grill. Simply from my point of view look at the grill with a slightly better review than you might get on
amazon
.
This grill is a beast, weighing in at close to 250 pounds. Even though the grill is listed as 22 inches, the cooking grates, which there are two levels, are approximately 18 ¾ inches. You'll definitely need help lifting the chamber onto the included rolling stand.
From what I can tell, not being a metallurgist, the stainless steel on this grill is high quality and much better than other things I have seen manufactured in Asia.
The stand, with rolling wheels looks a lot more substantial than others I have looked at. The grill is airtight and comes with a double-insulating pads between the base and the lid. On my first cook it took me about an hour to get it settled in on 225°. I simply followed the basic instructions on top and bottom vent settings from the instructions included I used a lump charcoal setup in a volcano style pile and lit the middle with a grill starting Cube. Once this thing gets to 225 it stayed within 4-5°for the full five-hour cook.
The lid is spring loaded so it is easy to lift and won't get away from you like another metal Kamado I have experienced.
I can't vouch for their accuracy of the built- in thermometer, as I use a grate level Inkbird to measure temperature.
The package came with some extras such as a cover, an electric coal starter(which I will never use), and a stone/diffuser.
If I had to knock off bonus points it would be because there is no built in ash pan , which requires a quick shop Vac suck to clean out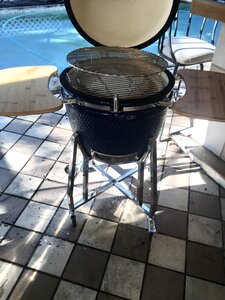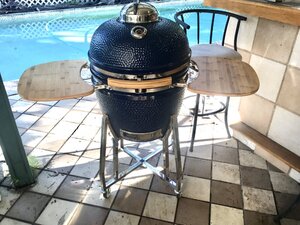 the ashes. If you use lump, as you should, there will be very low ash from a 5 hour cook.
Any questions, just ask away.
John