Smoking Guru
Original poster
OTBS Member
★ Lifetime Premier ★
These are one of my favorite things to grill and eat. Sam's had a sale on them and picked up a package. Made up my marinade and let them sit about 5 hours. Got the grill very hot and just took about 3 one side and 2 on the other. This Spicy Cilantro Lime Coleslaw is so good. Also had some left over butternut squash. This was a tasty meal! The beef was very tender.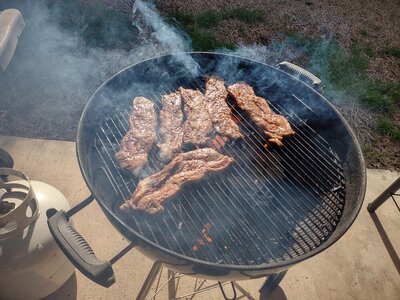 Gretchen licking her chops.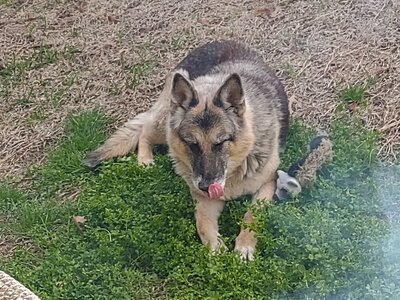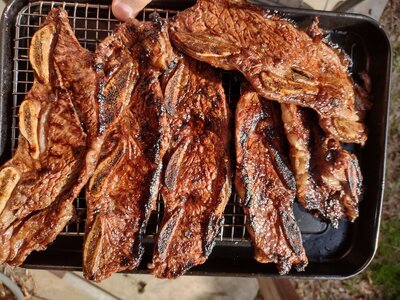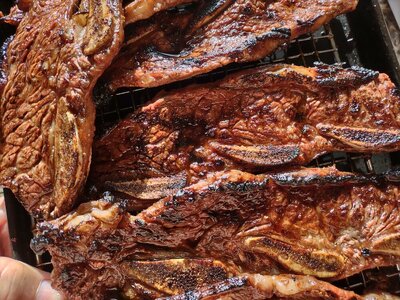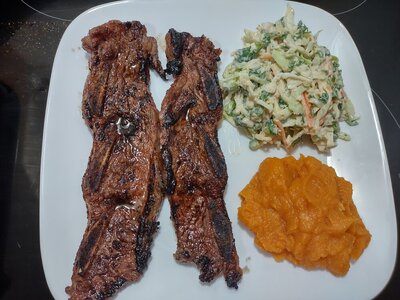 Spicy Cilantro Lime Coleslaw Recipe:
1lb of bagged slaw mix
1 bunch of green onion, greens and all chopped very thin
1/2 of a large Jalapeno pepper, quartered and chopped very thin
2/3 bunch of Cilantro, chopped coarse
The zest of of 1 lime
The juice of 2 limes
3/4C Sour Cream
1/2C Mayonnaise
3T sugar
1t cayenne pepper
Korean marinade
1 small chuck pineapple fresh - tenderizes I keep frozen for use. I have learned it does not take much.
⅓ cup soy sauce
¼ cup rice vinegar
2 Tbsp brown sugar
3 cloves garlic, peeled
5 slices fresh ginger, peeled and thinly sliced
1 tablespoon hoisin sauce
1 tablespoon hot chile paste
1 teaspoon sesame oil