150
134
Joined Dec 17, 2019
Hey Y'all,
I'll spare a lot of detail, as I am probably going to do a review on this "grill" as I didn't find a lot when I searched. This was my first cook on this Kamado. Minor details: this thing is a beast.
took two hours to settle in on around 225. Once there it never swung over 3 degrees +- over a 5 hour cook(except when I peeked). I am beyon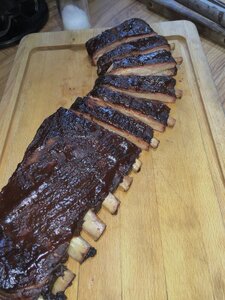 d elated on the deal i got on this Kamado.
Lifesmart 22"
I docked myself a few point for slight over cook, as they are fall off the bone.
that's all for now. My potato is done and I'm hungry.
over and out.