Meat Mopper
SMF Premier Member
220
228
Joined Jul 29, 2011
So I came across full leg of goat and decided to give it a try.
Basically I separated leg somewhere in the middle and used whatever meat was there for some kebabs in Grillex.
Bottom part was stuffed all over with cubes of smoked salo (pork fatback) and rubbed with
Smoke Ring Championship BBQ Rub
. Left it wrapped in the fridge for 3 days.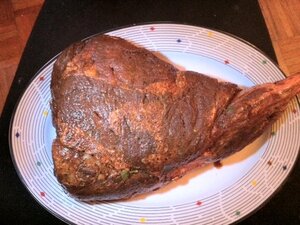 Heated up Smokin-it model 2 and loaded it with apple chips. Cooked at 225F and it was there for around 8 hours till 160F internal.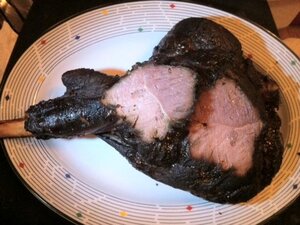 I'll tell you meat itself was very nice plus all those cubes of fat infused juices throughout. And Just to make it fun I sprinkled some Smoke Ring BBQ sauce on meat and it is the very best sauce I ever tasted. Right combination of sweet and tangy with spice kick on its tale.
Wife was very happy.
Last edited: