Smoke Blower
SMF Premier Member
113
125
Joined Jan 14, 2021
Well, maybe not the first time doing dino ribs, though the actual first time was many years ago, when I didn't really know what I was doing. Back then I was using a crappy Brinkman cabinet charcoal smoker that leaked everywhere and I thought thick white smoke was a good thing. Pulled the ribs when they stalled around 160F because I didn't know I needed to push thru it. As you can imagine, they were tough and dry. I try not to think about the cooks from those days.
Today's cook was much better. Dry brined a 3 bone rack for about 3 hours then rubbed it with pepper, garlic, and some Kinders Mild BBQ rub: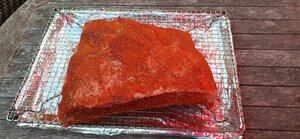 On the smoker around 8:30 this morning. Running the MB gravity feed with Kingsford Competition briquettes and chunks of cherry, pecan, and hickory: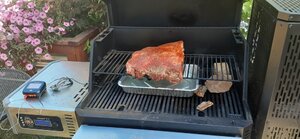 I was shooting for around 240 cooking temp, though I'm not sure I was spot on. My grate probe was reading between 200 and 220 the whole time, however, the smoker was set to 260 and the Tell Tru thermometer in the lid (which is about meat level) read around 240 to 250. I suspect the grate probe was shielded by the water pan and thus was reading low.
About 4 hours in: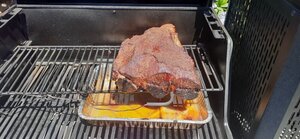 After 8.5 hours, they probed tender around 195.
Didn't get many pics at the end of the cook. I had the day off, but the wife had to work, so getting dinner on the table took priority over documenting the cook. Did get a money shot though:
I have to say, this was probably the best thing I've made yet. So tender and juicy. "Why would you ever cook brisket when you could make these?", asked the wife.
Thanks for looking.
Bird