Master of the Pit
OTBS Member
SMF Premier Member
★ Lifetime Premier ★
2,584
2,991
Joined Dec 1, 2019
Yesterday I smoke dried a couple of batches of jerky in my Big Chief box smoker. Because it's thin, the dry cure time is only 25 to 30 hours, and for flavor I used some homemade garlic pepper seasoning.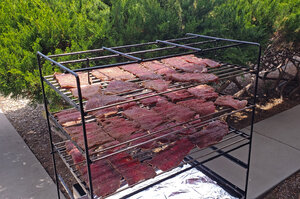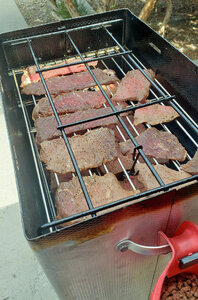 I'm using pecan pellets from A-Maze-N, and for me.... they work much better than sawdust or wood chips.
Smoke time is about 4 hours, the first hour I block the lid open to slowly start the drying process, then I adjust the gap as needed for the rest of the drying. A Big Chief has no actual controls for heat so about once an hour I'll add a handful of pellets but I never empty the ashes. This helps to control the combustion and keeps the smoke lighter.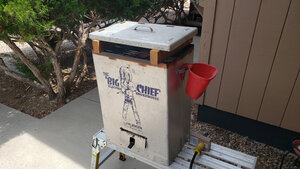 Here is the end result.