Master of the Pit
OTBS Member
SMF Premier Member
4,185
4,352
Joined Aug 1, 2018
Was at Albertson's and noticed they had Rib Roast on sale. They had few really nice ones around 5 lbs but I wanted something closer to 10. Had the butcher cut me one. Really prefer picking my own meat but look like he did OK. Picking good steaks is my super power. I been wanting to try this since that last post.
I will be using wraps and not sure how long it will take to get but guess this will be OK in fridge for a while? Do I need to cut the bones off? Thinking 45 or 60 days?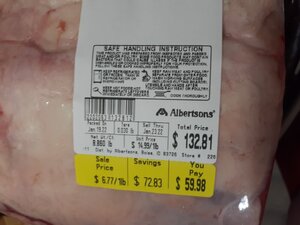 This was the Thread that hooked me from

GonnaSmoke
:
Some of you may remember my thread about dry aging a bone-in rib roast for Christmas. I started the process on November 22 https://www.smokingmeatforums.com/threads/getting-ready.311758/. As Christmas approached, I realized that the rib roast wouldn't be big enough for the anticipated crowd so I...
www.smokingmeatforums.com
Last edited: