Hi All - New to the forum. I'm not sure if this is the place for this, but I had a few questions around smoking a brisket on a pellet grill. I completed my first attempt a little while back, and while the brisket wasn't bad, it finished far earlier than expected.
First thing - equipment. I have a Louisiana Grills SL700. Pellets Used - Pit Boss Oak Blend.
From my research, I concluded I'd probably need about 11 hours, so I started the smoke at 7:15a. I kept reading that I should be expecting a stall in the 165 degree range - I never hit the stall. The brisket finished after 6.5 hours. I still don't understand exactly what happened and am looking for some tips. I didn't get all that much of a smoke ring, and it'd obviously be even tastier if it were on for 11-12 hours vs 6.5.
I got the brisket from Costco. 12.61 lbs USDA Prime. I trimmed off 4 lbs 6.8 oz of fat for a final weight of 8 lbs 3 oz. Solely seasoned with salt and pepper.
The trimming went alright for my first batch. Fat wasn't too thick at the top and the fat in the meat rendered pretty well. I was a bit confused on the point on this brisket though as I was expecting more of a flap to cut off.
For those who have critiques on the shaping and trimming of the brisket, fire away.
I set the grill at 250, so I guess question #1 would be - should I go lower (225)? The only water pan that I had was a square 9x9 pan (which has since been replaced). I put the brisket in the back half of the grill and let it sit and cook.
I stuck a thermometer in the thickest part of the meat and looked at the reading from my pellet grill's screen every hour:
(All degrees Fahrenheit)
Hr 1 = 81
Hr 2 = 132
Hr 3 = 154
Hr 4 = 166
Hr 5 = 177
Hr 6 = 192
Hr 6.5 = 203
With all this said, and with the grill setup, is there anything obvious that I did wrong or anything you'd recommend trying? I'm most likely going to start at 225 degrees the next time around. I also know that my grill's internal thermometer could be incorrect, so I'll do tests shortly to see if that's also an issue.
Feel free to send over any critiques, glaring issues, things I should never do again. I'm on this forum to learn, not for an ego boost. I know there's a lot here.
Overall, the brisket was ok. The group I served it to loved it, but I knew it could have been far better due to no smoke ring and because I knew it should have been done a lot later. I ended up putting in the oven on and off at its lowest setting for the remaining hours till dinner. Looking back on it, I should have just put back on the pellet grill in a pan. The flat was pretty dry, which made sense - but surprisingly not as dry as expected. The rest of the brisket was pretty juicy somehow.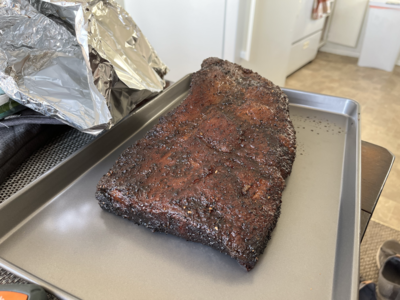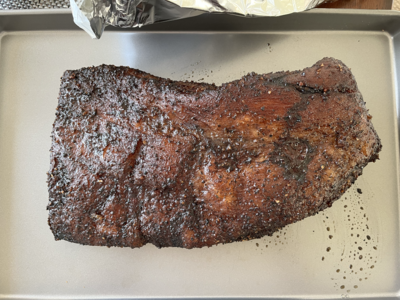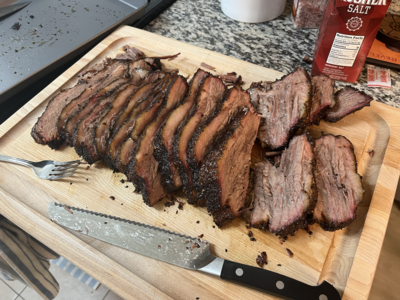 Last question would be, the dark brown portion of the fat in the meat below...how can I eliminate that in the future? Is this a trimming situation? Does this always happen?
Thanks again for reading!
Sincerely,
A Big City Beginner Smoker