Epic Pitmaster
OTBS Member
SMF Premier Member
★ Lifetime Premier ★
10,684
7,164
Joined Dec 14, 2013
Love a good breakfast sandwich , and that looks great . My son has a sandwich maker that , well a pic is easier
Has 2 chambers . Raw egg goes in the bottom , and pre cooked meat on top . Heats the meat and cooks the egg .
When the egg is ready this slides out and the meat drops down .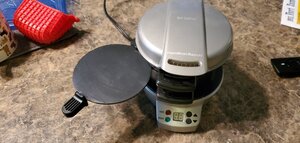 Works pretty good for 1 at a time . I have pre cooked frozen sausage patties in the freezer .