Master of the Pit
OTBS Member
SMF Premier Member
2,807
2,811
Joined Aug 1, 2018
I made these pickled Cucumbers last week as part of a seared tuna recipe. Man where they good. Had to make again. I think can reuse the liquid. Here is the recipe:
Pickled Cucumbers ▢ 1/2 cup rice wine vinegar, Kikkoman ▢ 1/2 cup water ▢ 1/3 cup sugar ▢ 1 1/2 teaspoons kosher salt ▢ 1/2 teaspoon red chili flakes, dried ▢ 2 6-inch japanese cucumbers, or Persian, cut into ⅛-inch slices. Boil and pour over cucumbers. Let sit 30 minutes and refrigerate.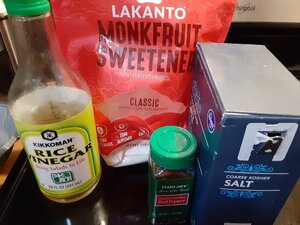 Made some sauteed patty pan squash. Had some left over cauliflower mash so made a fried patty. I thought the fish was thawed but went I temp it in pan was only 65. Turned heat down to finish and ended up turning out really good. I do not use high heat when I blacken as I do not have a vent but it comes out great. I need to work on plating! Thanks for looking.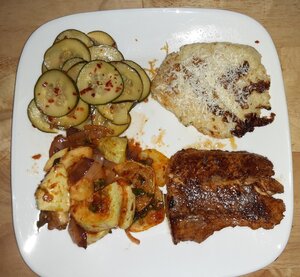 Last edited: