Smoking Fanatic
Original poster
Well it is a no smoke weekend and today I will be making and canning 10 - 12 quarts of my short rib ragu. With both the wife and I working we have to find the time to keep 2 kids in college and our 10 yr old girl spoiled. Well I do the spoiling because daddies little angel never does anything wrong. So canning this sauce allows us to have quality meals with low effort. This also allows us to get some veggies in the kids without them knowing, and keeping our portion size in balance with our daily needs.
We start by searing 1 lb of short rib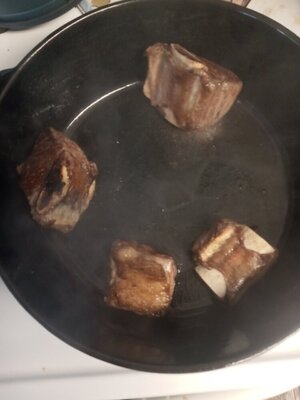 I also brown 1lb of sirloin stew chunks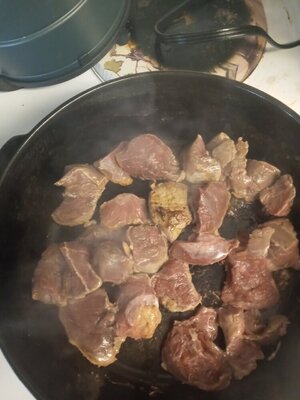 Now I add a bag of baby carrots, a stalk of celery, and 1 whole red onion ( medium size ) and some red wine... Duplin Hatteras Red. This can all be large chunks as we will be grinding this all up to be our sauce base.
Once its simmering it goes into the oven at 350 for the afternoon. I have to go fight the mule now, but I will return with updates.