391
451
Joined May 30, 2018
My semi retirement job is working at the local meat locker and custom butcher shop with my son in law. While processing beef for customers no one ever saves the back ribs so they go the trim pile for burger.
Last week we had a locker beef for resale so son-in-law saved them if I'd smoke them….. deal.
They were seasoned with sea salt and black pepper the night before. Next day the were smoked at 180 for three hours then at 230 the remanding time total 8 hours.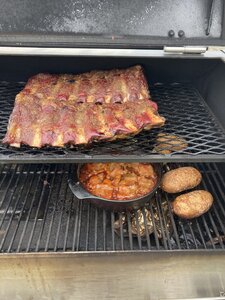 Homemade baked beans and they were placed under the ribs to add flavor.
Potatoes were brushed with Olive Oil then coated with Sea Salt and were allowed to cook for six hours. The crust on the potatoes was crazy good compared to regular baked potatoes wrapped in foil.
Random Q View Pics
To top of the awesome ribs my wonderful wife made homemade a
Apple Crisp with apples that were given to my daughter by her students. The Apple Crisp was slightly warm when the vanilla ice cream was scooped. Thanks for looking.