781
506
Joined Mar 21, 2018
Ok, sounding like a broken record. But here is another play with the 10 Spice Kielbasa recipe. This time I "took my time" (patients is NOT my virtue!) and worked the blend first, rested it for 3 days, stuffed it on the 3rd day, dried it overnight in the fridge, and smoked it all day today. The only changes I made this time was adding 1'2 cup of Aecht Schlenkerla Rauchbier instead of water. The unsmoked version, remains from stuffing, had a different taste with a slight background smoky flavor. As a fresh sausage, the flavor would go good at breakfast, mixed with meatballs, or other combinations, like sausage and eggs. But was lacking that deep smoke flavor I like.
Quick synopsis of today's event. Noting earth shattering in the way of making sausage.
P1 was a thick sausage in the middle of the rack; P2 was a really thin sausage in front near the door. A-MAZ-N was placed on the lowest shelf next to inlet (chip tube),
1000hs - preheat MSB to 160℉ [email protected]~3/4 open.
1030hrs - Dry sausage @ 160℉
1050hrs - Start A-MAZ-N 6X6, 2 rows of apple pellets. Fully open upper exhaust vent for remainder of the smoke.
1105h - Good TBS, started time for 9 hours, A-MAZE-N ran flawlessly all day with an almost perfect clear blue thin smoke!
Weather changed a lot - cloudy, windy, no clouds, no wind Variations in smoker temp.
Graph illustrated when the weather changed and how far the meat dropped in temp.
Adjusted meat around 1530 hrs. by increasing the smoker to 175℉ (which ranged 168℉-191℉ depending upon the wind)
Sausage remained around 148℉(P1) 146℉(P2)
1600hrs - Raised temp to 180℉ - Full clouds and wind.
1820hrs - P1 Inner sausage hit 154.0℉ Probe 4 was 152.2℉
1825hrs P2 hit 154℉ and started dropping to 153.5℉ due to wind.
Smoker off at 1826 hrs. Some pellets still putting out some smoke. Vents are fully open.
1833hrs - Residual heat kicked in - P1 155.6℉(Max for day) & P2 153.6℉ (Max for day) and started immediately dropping.
Removed @ 1835hrs to cooling rack.
Some fat out, but not a lot when blotted with paper towel.
1/2 of row 2 of pellets did not burn - didn't pack them tight enough in the maze. OOPS?!
Overall, this was a successful day of smoking. Learned more about air flow and temperature variations in a non-insulated smoker. The Inkbird IBBQ-4BW was right on the mark, the graph showed the heating cycle of the MBE unit as well as the weather changes. Did learn the BBQGO DOES NOT save the event, or I just can't find it. I wanted to post the chart so show how good this little unit really is. Did not need the Wi-Fi since the Bluetooth reached all around my work area. Inkbird, could you add a memory keeper (download) for the Bluetooth operatives??
Here are a few photos for your perusal along with a brochure on the Aecht Schlenkerla Rauchbier and brewery. If you can, try this beer out either by drinking it or using it in a recipe. It is really a nice touch.
Thanks for staying with this dissertation!
John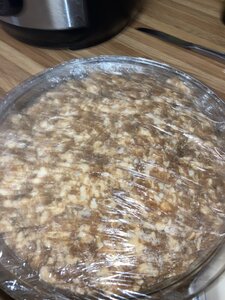 After 3 days in the fridge - 8-/20 preground pork
Ready for the smoker after overnight drying
Final product