Master of the Pit
SMF Premier Member
4,341
1,817
Joined Aug 13, 2015
Who's tired of trying to find anything not made in China?
Ok, so I had a birthday Monday.
The Mrs. got me a knife that I would never have spent the money on because she says I'm a cheapskate.
The handle broke off the cheap 8" chef's knife that I used mainly for cutting up wings and trimming spares to St. Louis ribs.
I mentioned that I needed to replace it and she got me this.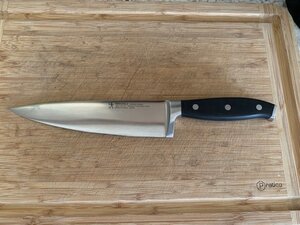 It's a wonderful knife and I use it now for almost everything (which a chef's knife is supposed to do).
What keeps bugging me is this:
You would think that a fine German knife would come from Germany, but no.
It's not just the U.S. The whole world is in China's back pocket. It doesn't bode well....
Sorry for the rant. I just needed to get it off my chest.