It's another fine day, albeit hot and humid as heck, but a good day for smoking! I got my hiney up early this morning and fired up the smoker. Then I took these two little gems out and tossedem' on:
So I ripped open the packages, removed the inner cloth netting and I found out something real special. I'm using my whispering voice because I don't think the folks who make these little babies want us to know this. You see, these are not really turkey breasts, per se and I would have never known this if I had bothered to read the instructions that clearly say DO NOT REMOVE CLOTH NETTING. So I removed it and about 50 pieces of turkey breast fell out. My jaw dropped and I began shoving it all back in the netting. What have I done! For the shame of it all! Read the instructions next time!!!!! So, I managed to get it all back inside and it no longer resembled the other "turkey breast" yea, wink, wink. Now I have a fake turkey breast and something that resembles a giant turd, all tapered and stuff. Ok. Moving on. I also grabbed a bunch of these:
Here's everybody cooking right along, minding their own business. I did mix up some maple syrup and some maple flavoring and brushed it on the turkey a few times. It didn't take very long to cook, about 3 hours maybe, I didn't really pay that much attention. I cooked the breasts to 158F, tented and the temp rose to 165F. The wings, well, I had something special in store for them. Just you wait and see!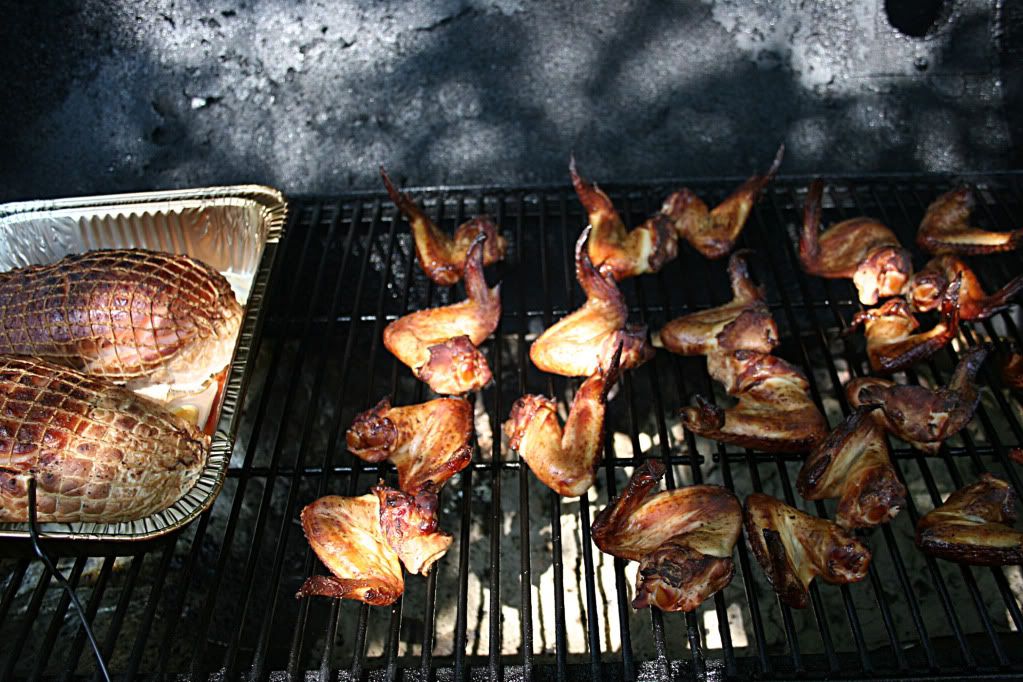 Notice the turkey breast left, foreground, yea, that one, the doodie hootie. LOL! I just thought of that, I swear. So, I pulled off the wings when they were not quite done, what? you say, undercooked chicken? She's trying to kill us all! Hold on to your drawers. I did some fancy cutting on the wings, fired up a pot of oil and did this:
No she didn't! Yes, she did. She breaded half smoked chicken wings that have been cut in a fancy sorta hot wing style and dropped them in here: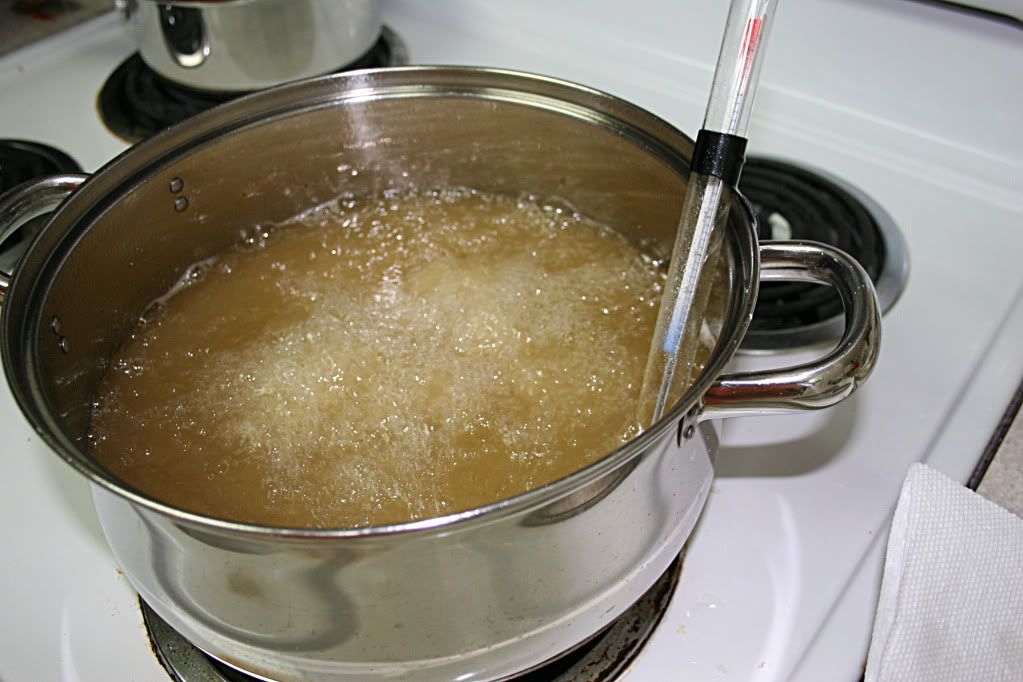 Then, I melted some butter (alot of butter) and added some hot sauce like so:
AND THEN, great timaday, I can't stand it no mo!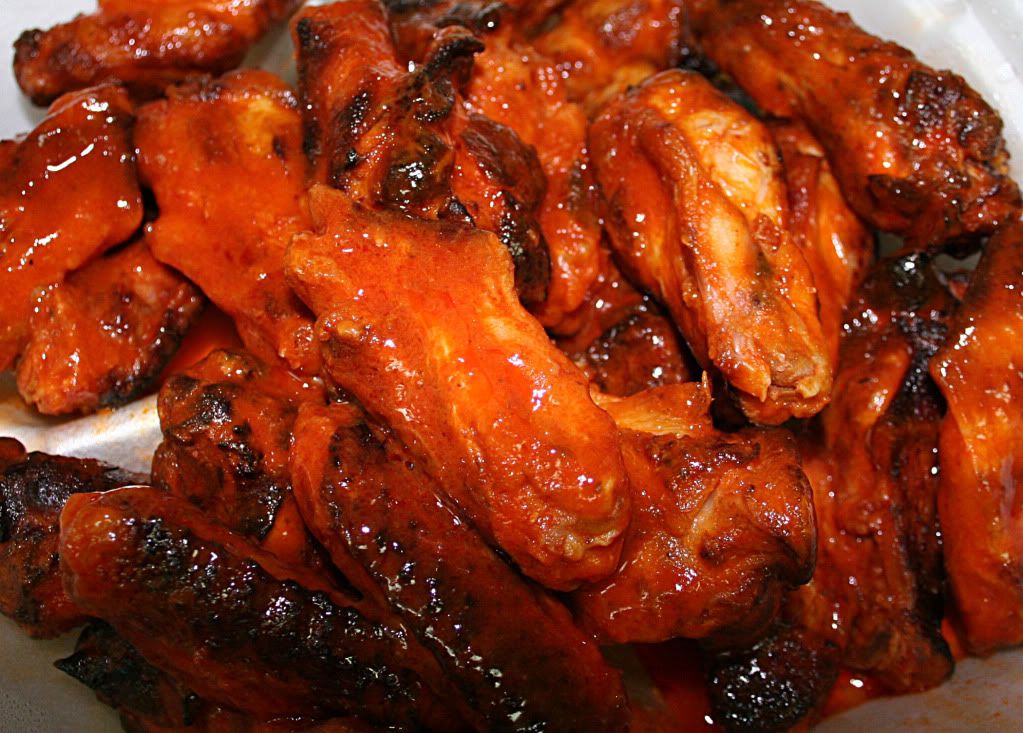 Back to the hooties, So they are now done and I sliced in to one: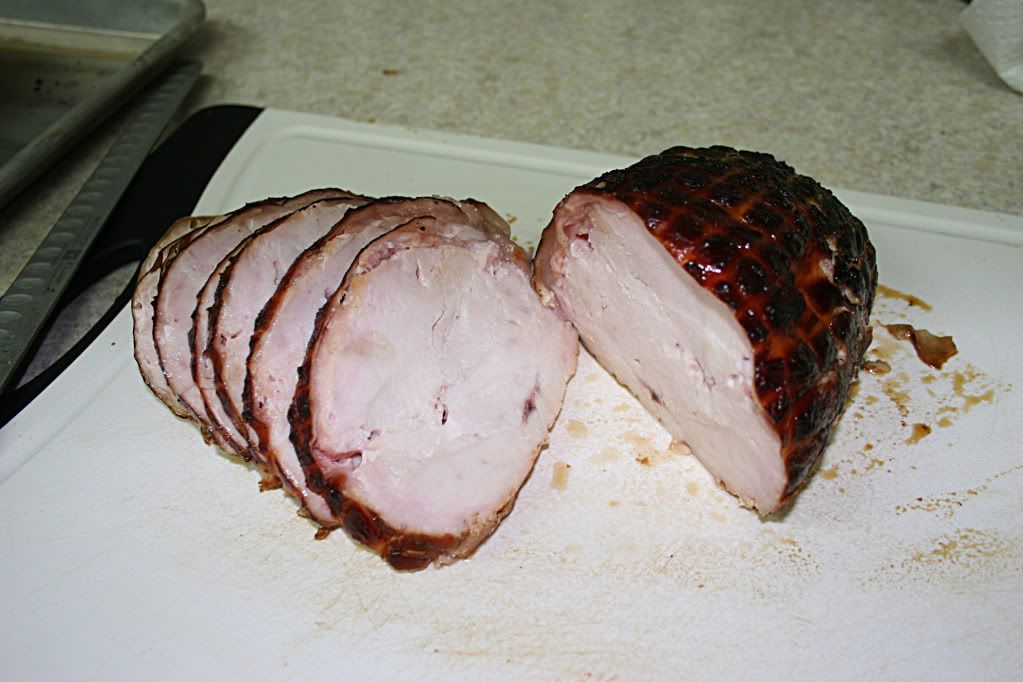 That's just so lovely, I didn't know all them pieces and parts were gonna hold together like magic after it was cooked! Those sly little marketing people! Then I made myself a jam up and jelly tight sammich. I remembered that six weeks ago today, I made this:
So, then I fried some bacon, took out some yummy whole wheat bread I made yesterday and started the assembly. It goes like this, dijon mustard, layers of yummy turkey, shaved aged baby swiss, heirloom tomatoes, pickles, bacon, sauerkraut and spicey mayo. I ate it all, and then fainted dead away. The end.