Well I pulled the trigger and bought a "gently used" 18.5" WSM off of Craigslist. The BEST $105 I ever spent I think! Picked it up Saturday, fired it up early Sunday morning.
Had a couple of boneless turkey breasts in the refrigerator, thawed a chuckie I had in the freezer, and got up bright and early Sunday morning...Got out the meat and some seasonings....
Rubbed Mr Chuck down with some olive oil, then gave it a rub of some garlic and onion powder, Tony C's and a little Montreal steak seasoning.
While it sat in all that seasoned goodness, I started the new toy up.
Who said there'd be no use for the ancient "Mr Meat Smoker??"
Within what seemed like minutes, I had this glowing...
Used Kingsford Comp and 4 hickory chunks.
All the meat fit just fine on the top rack...on at 7:30 am
Moments after putting the lid on...a bit concerned..too much smoke?
Nawww....settled in just fine!
Abut 3.5 hours in....turkey just about ready....spritz all with apple juice.
Pulled the turkey at 12:30 @ 170, foiled, wrapped in towels and into the cooler. Foiled chuck at 170, pulled it at 210 and wrapped in towels and into the cooler. After a nice rest....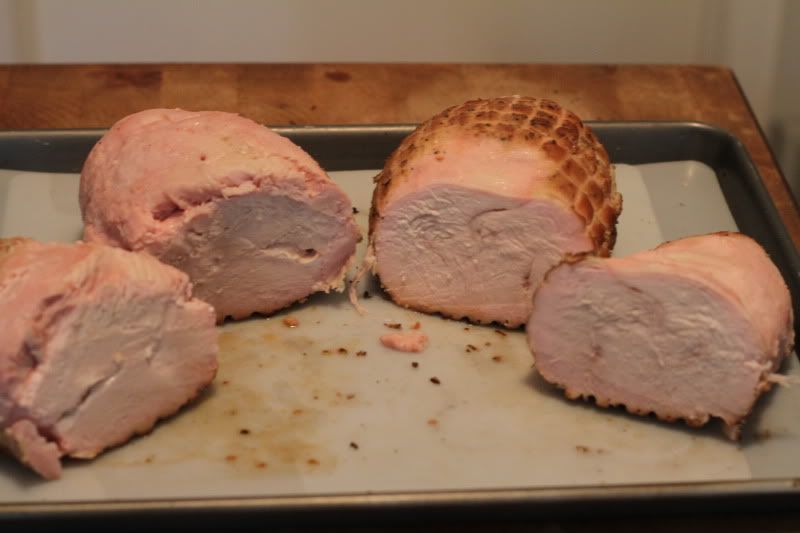 This was my first smoke of the year, my first with the WSM, and I couldn't be more pleased! All the meat was moist and juicy, a just right flavor of smoke, and quite tasty. The family loved it. And so did I.
SOOOO glad I got the WSM. It was a pleasure to use right away. Hit temp right away. A wee bit of tinkering with the vents, and it just cruised.
Hope you all enjoyed the Qview. I've seen so many of yours, and this is my first. MANY more to come I am sure! And thanks for all I have learned from so many here. I know my learnin helped make this first smoke work out so well.