Today I'm doing my favorite cut of beef: the Tri-Tip. So tender, juicy and flavorful. I actually was planning on doing my first full packer brisket smoke, but got to Costco (just got a membership yesterday) and saw that they had Tri-Tip for $4.99/lb, and just couldn't pass that up; besides, they didn't have any packers - just flatties.
Here in K.C. Tri-Tip used to be rather inexpensive, but folks are catching on to this cut of beef, and demand has driven the price up. I usually buy my meat at Hen House (they sell quality meat, and the meat counter is staffed by people who really seem to know what they are talking about, unlike most other grocery stores in the K.C. metro). Anyway, these days Tri-Tip usually sells for $8.99/lb. When they have it on sale it's $7.99/lb. So, $4.99/lb Tri-Tip gets me all hot and bothered.
Here is the pair that I brought home surrounded by my Tri-Tip rub ingredients: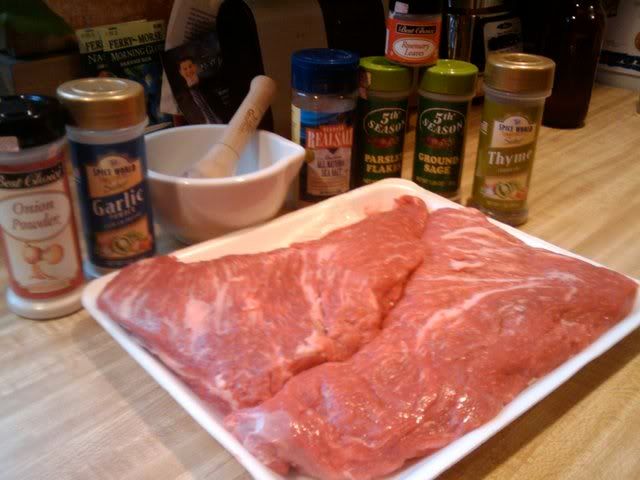 I call my beef rub "Simon and Garfunkel" rub. It has parsley, sage, rosemary, and thyme - get it? Also sea salt, fresh cracked black pepper, granulated onion, and granulated garlic. I mix one teaspoon of each, and then add some canola oil to it to make a slurry which I rub into the meat. Here they are all rubbed up:
and wrapped in plastic wrap to rest in the refrigerator for 24 hours.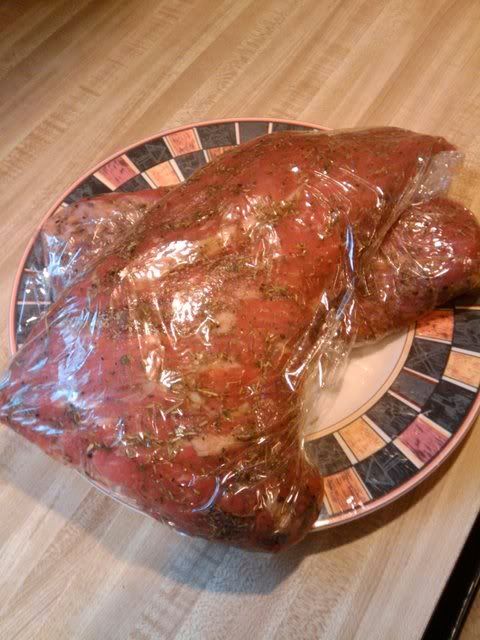 I'm also doing a couple of boneless, skinless turkey breasts. I brined them for about two hours in a basic brine of water, kosher salt, and brown sugar. I took them out of the brine, rinsed them down and patted them dry, rubbed with oil and Lemon Pepper seasoning.
Here is everything on the smoke racks and ready to roll: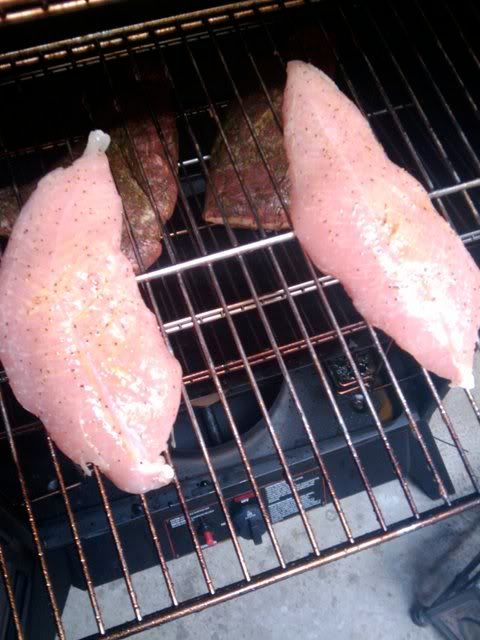 They've been in the smoke for a while now. Beef should be getting ready to come out. I'm going to do a reverse sear on them. Then wrap in foil and towels for a rest period.
More to come, and thanks for looking.
QueBall