Not a smoked dish but I suppose you could smoke the chicken pieces first if you wanted to give it a try. But this was for my mom and Cathy for Mothers Day dinner.
I cut the bird into 10 pieces by cutting the breast pieces in half.
I then browned 1/2 lb of bacon(mine of course) pieces in my dutch oven(yes, I'm shamelessly showing off my new porcelain cast iron pot) and reserved about half of the bacon fat.
Then removed the bacon and browned the chicken pieces in the bacon fat. Nope, nothing healthy about this dish!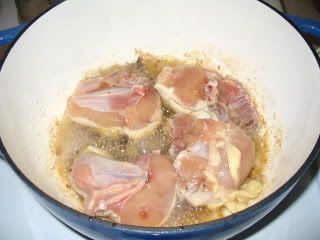 With the chicken browned and set aside I then added flour to make the roux and cooked that until all of the crispies came off the sides and bottom of the pot.
Then added the browned bacon, diced onions, mushrooms, Marsala wine, and chicken stock to make the sauce for braising the chicken.
After the sauce tightened up and cooked for a bit the browned chicken was returned to the dutch oven(did I mention I got a new toy??)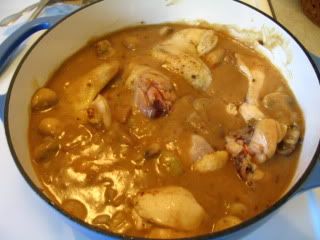 Then into the oven at 250o for to braise for about 3 hours.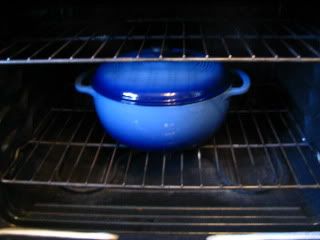 And it is basically done!
This is Cathy's favorite dish and while it is traditionally served with potatoes she likes Basmati Rice with it so here is the finished plate.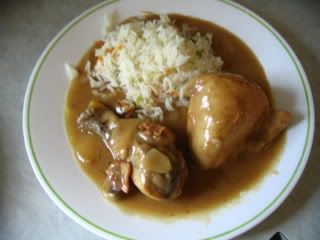 Her and mom loved it and have some left overs for lunches this week.