The build of the stuffed Colossal Hawaiian Burger w/Qview
Thanks to all who participated in the Sandwich throw down. It was a fun reason to lay down some smoke and come up with a new burger my kids are really digging. That said here is the build.
3 lbs ground beef mixed with .5 lbs maple sausage. Smoked and pulled chicken mixed with caramelized sugar & cinnamon apples. The BBQ pulled chicken is placed on top some Mozzarella on a big patty. BBQ sauce is drizzled on top and another layer of cheese and then the top patty is placed on and the edges pinched and sealed.
The patty then gets a mopping of the caramelized apple juice followed by BBQ sauce and thick sliced bacon. Its then smoked @ 230 until the internal temp reached 165 degrees. It's placed on Keizer roll and topped with 3 smoked pineapple rings and coleslaw with pineapple chunks and juice.
The BBQ sauce was 1 bottle of Sweet Baby Ray's mixed with equal amount of Diet Cherry Dr. Pepper and 3 tbsp brown sugar. It's then brought to a simmer and cooled.
This thing is a big burger with BBQ delight oozing out with each bite.
Here is what went on to build it.
HD Video of Prep & Smoke
Injecteing the chicken with cherry dr. pepper
BBQ pulled chicken and apple stuffing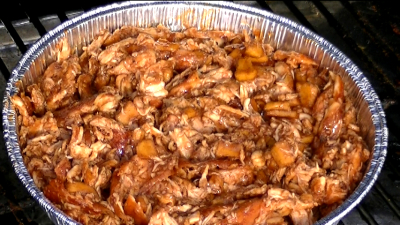 The build begins.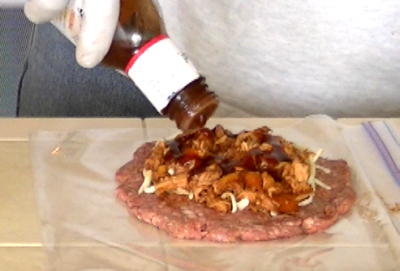 Mopping on caramelized apple/sugar/Cinnamon juice.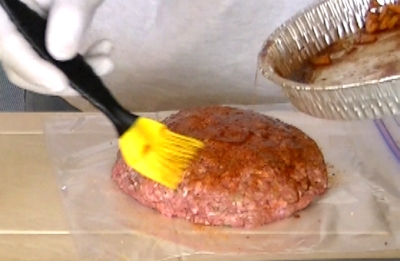 Got to have thick sliced bacon!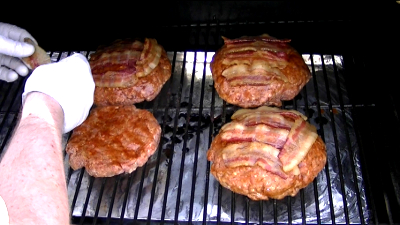 Just off the cooker.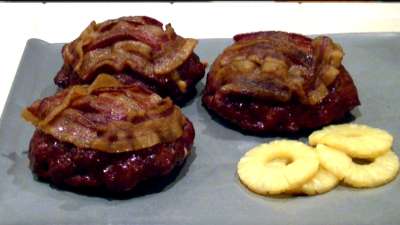 In all its glory! It was an amazing combination of flavors.