Set up:
Brinmann SnP
MODS:
- Afterburner propane burner
- oven gasket lining
- Vent extender
- new thermos
So, as a continuing project I am looking to optimize my SnP design such that it is as fuel efficient as possible, and a really nice even cooking area. I am focusing on heat distribution now as everything else seems to be in place. Also I'm a sucker for perfection in the things I use, and I wanted to learn more about these designs when when I build my own.
For several months I have been using this setup: (minus the extra metal heat deflector on the right side I put that there in the picture only)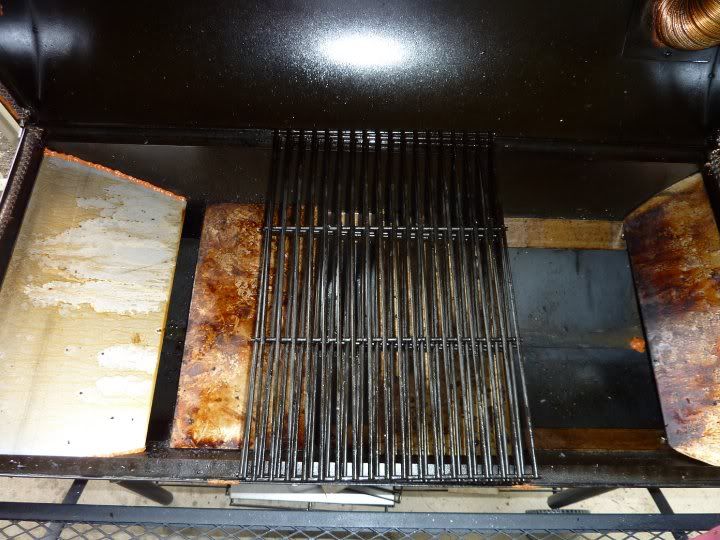 Heat Baffle with a small angle
2-3 tuning plates
made from 1/8" steel
Pros (over no setup):
- Much better heat deflection / distribution
- Can move plates a lot to change heat areas
Cons:
- Gaps in plates leave very hot spots
- Vent side always a bit cooler on the grill
The hot spots were very evident on my last smoke of 4 dozen chicken wings. I purposely left them in the same area to try and map out the spot. In the end I had some significant hot areas in between vents and the firebox side cooked much faster (normal for this setup).
So after I saw a few pictures of a more complex setup on this forum, i decided I wanted to make a change. Since I do not have access to metal working equipment, or those skills, I had to get this made for me. After a few PMs I got the info I need and made an exchange to have a forum member help me acquire: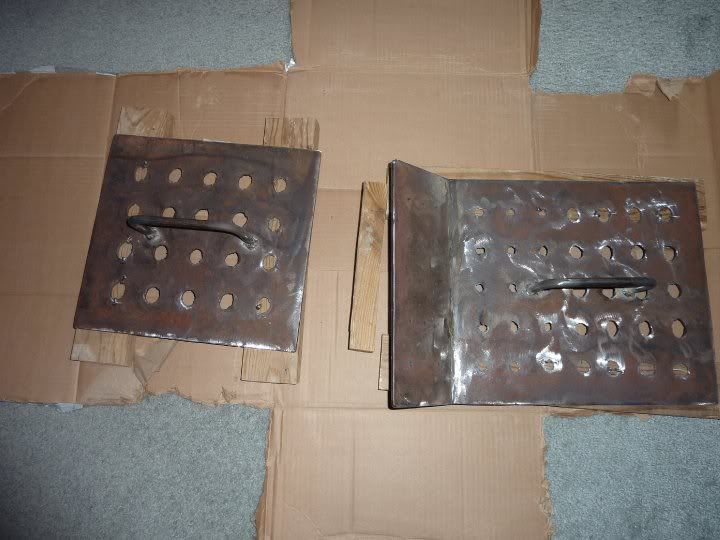 First thoughts... "So THIS is what 1/4" steel is like! Damn its heavy!"
This new setup came in two pieces. The first piece is meant to act as the heat baffle, and extend the heat / smoke along the cooking chamber.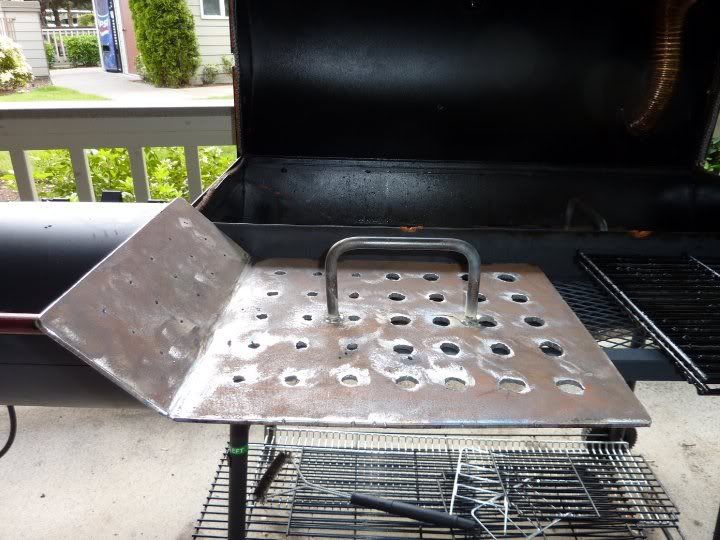 The second piece was suggested to me, and then requested by me, to further extend the heat / smoke along the chamber for cold weather cooking. I live in the Pacific North West, and I expect to be BBQing in cold rainy weather!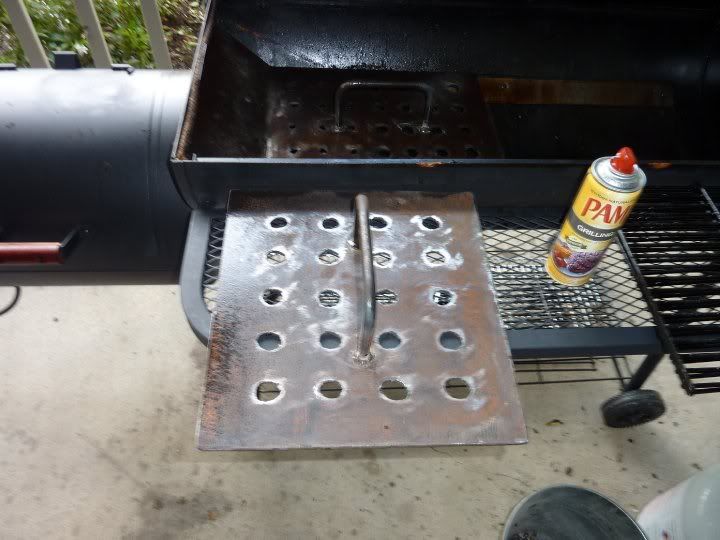 Installation was a snap. Pull out old parts, put in new ones!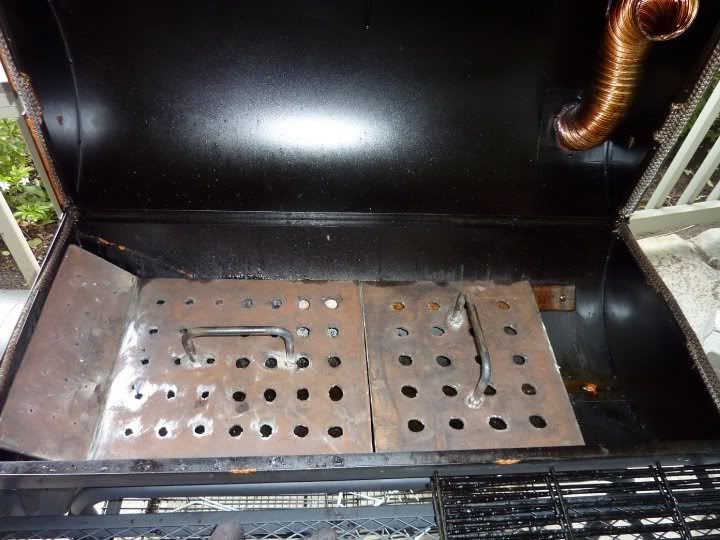 One thing I forgot to do during my initial seasoning was to move the vent extension all the way over. It was overlapping the second plate, and although the setup worked great, I think it may have hampered some airflow.
New setup (with grills):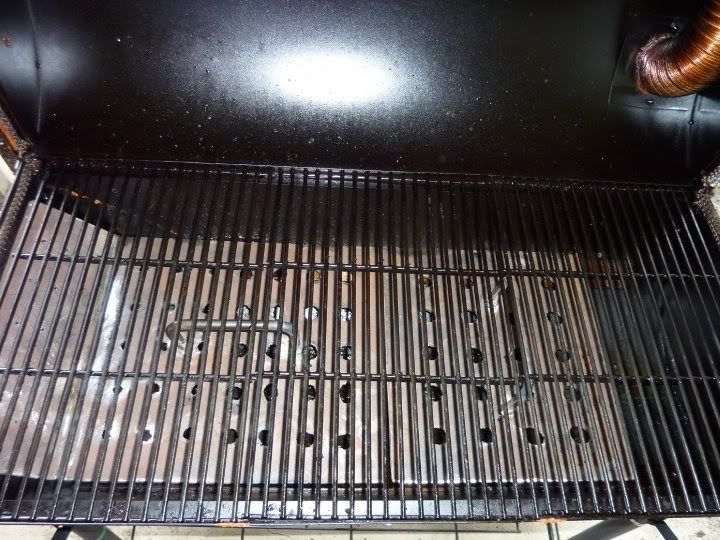 From my seasoning time, with digital probes all over the area I can say this:
Pros (over old setup)
- very even heat distribution all over the grill.
- Recovers heat from lid lifting VERY fast
Cons
- Takes a longer to warm up
- Some hot spots on the far edges along the front / back where the heat baffle part is. Not really a big deal.
- Firebox side thermo now gets a much hotter reading, even tho a digital probe in line with it on the grill registers cooler
I had my probes everywhere on the smoker and they were very constant. No significant hot areas anywhere that I would have food on. I am doing a 15 lb brisket this weekend for my first smoke on it. I'm very excited, so far everything looks promising!
I thought I would share this with you all. Aside from the Afterburner propane burner, which I installed as an experiment / battle high charcoal costs in Canada, my total costs for this have come to about $450.
This includes the BBQ itself, all materials I installed, plus the cost of acquiring these new parts (shipping too!). That is 1/2 the cost of a Horizon (dont get me wrong tho, I would love a Horizon!), and a gradual cost. I added things and changed things and spent money over time, after the initial SnP purchase.
Its been a fun build, who knows I may keep going. But for now I'm waiting for the weekend, and a great brisket smoke!
Q on!
PS - I still love and use my WSM!