I have been doing a lot of reading on here on all different kinds of smokers and how each one works. The light bulb keep lighting up as I am planning the build of trailer rig. While reading in the propane smoker section I came across a topic about the real function of the water pan. Several folks mentioned it was really for dissipating the heat. Some also mentioned using sand in there so you don't have to keep refilling with water. So I got to thinking about my 275 gallon tank and how I could put something in there to help maintain go heat and dissipate it evenly. I was looking at reverse flow, but that seemed to be the easy approach, and I like to experiment when building. I work in engineering, so I tend to get all kinds of out of the box ideas. So to be different, I am starting to think about the sand idea. Bunch of ideas came to mind, but this one is what I ended up with.
Basically I will build two or three pans about 3" deep. Each pan will have a piece of 3/4" to 1" pipe spread out about every 5-7 sq inches that are as tall as the pan. I would spread out a layer of sand in each pan and whatever depth seems to work best (between 1" and 2.5"). Then with another thin sheet of steel or whatever with the same hole pattern as the pipes, would fit in each pan covering the sand from all the drippings and also hold in the sand during travel. Does this make sense?????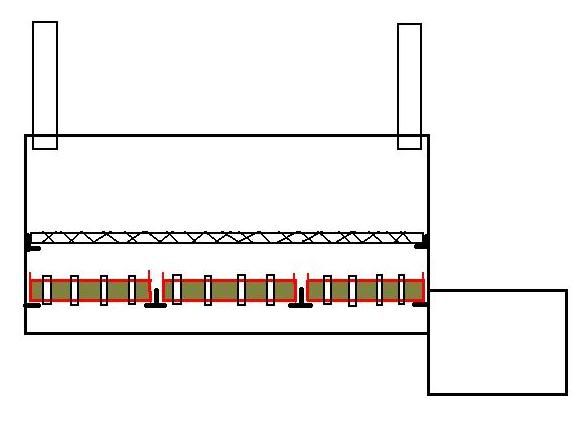 Has this been tried before and would it work any different then just having a 1/4" plate down there?