My first attempt at chicken - reprinted from my blog.
Well, last weekend I did an unscheduled cook of chicken. My family had been out and around running errands, and as we do, stopped for a bite to eat around 2:30 or 3:00. I knew that meant that we would be hungry again, in the evening, and I hadn't anything really planned (I usually do all of the weekend cooking). We got home around 4:00 and knowing I had about 3 hours, I thought of the smoker! I got some chicken thighs out of the freezer and defrosted them. I rubbed them heavy with some Sweet Rub generously provided by my friend Obie over at Obie-Cue (
www.obiecue.com
), and then left them to soak for a bit in some apple juice.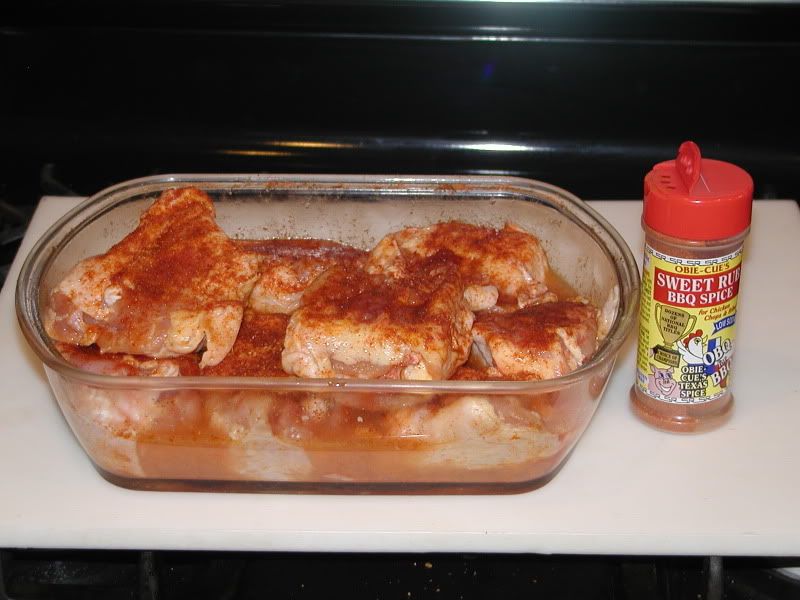 Meanwhile, I fired up the chimney starter, and filled the basket in the smoker with Kingsford briquettes. I also made up some foil packets of the mesquite chips I had on hand. Now, I am not crazy about chicken, and even less so, about chicken thighs. That being said, lots of folks had recommended them, I had some, so what the heck? Besides, so far on my smoker I had made pastrami, pulled pork, ABTs and beef ribs.
Remembering Obie's advice ("You can push a cow, but you can't push a chicken") I planned to put these in at 225. That seems to be the sweet spot for my ProQ; since Day One, I can get it there and hold it, fairly easily.
I pulled the chicken out of the apple juice, hit em with a bit more rub, and threw em in the smoker. I set the vents and walked away. No peeking really, I could see the thermometer from my living room window. After about an hour, I flipped the thighs. After 2 hours, the thighs were at about 155 degrees internal. 165 was my goal, so I knew I was close. I added a few more briquettes, popped the vents, and started basting with some sauce. My wife loves spicy stuff, so 1/3 of the thighs got hit with some "Fiery" sauce sent to me by the folks at Russ and Frank's BBQ sauce
www.russandfranks.com
. The rest got basted with Bill Johnson's. The smoker was now cranking pretty good at 325 or so. Each piece got turned twice and basted twice, until they hit about 167 or so, and I pulled em off.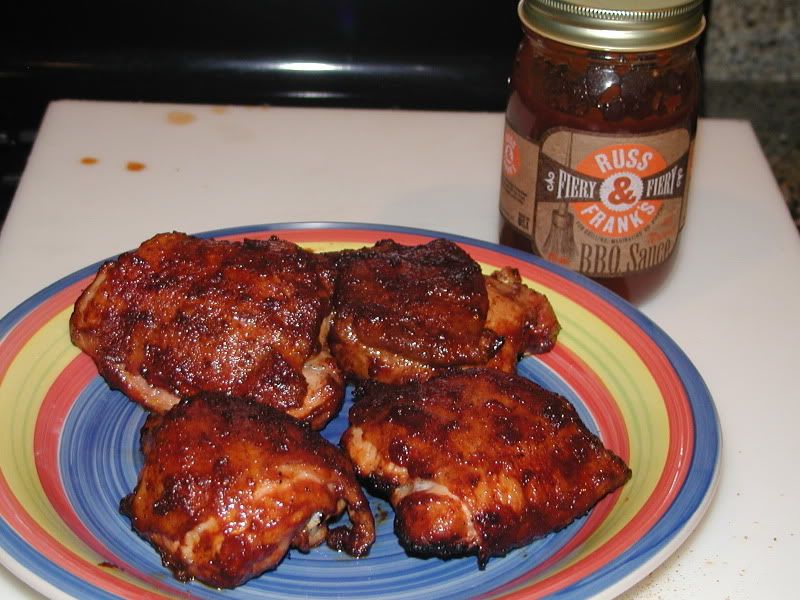 So, I had two batches - fiery and regular, all rubbed down with Obie-Cue's Sweet Rub. Russ n Frank's sauce was awesome, and important to note, loses some of it's fieriness, once cooked. (When you taste a bit, out of the bottle, it is HOT). My wife and daughter LOVED this chicken, and admittedly, so did I. They proclaimed it the best they have ever had. Now, understand, it's a tough crowd in my house. My family doesn't say stuff like that, unless they mean it. I wanted to thank Obiecue (look for an interview with Obie soon) and Russ N Frank's as well - both put out awesome products, and more reviews to come! This week, the Holy Grail - pork ribs!