Nice night last night, decided to fire up the kettle.
Ground chuck burgers seasoned with garlic powder and minced onions. Then topped with jalapenos and gorgonzola while it was on the grill. Served with chips and some pickles I "made".
pickles are made using leftover pickle brine, and adding spears of fresh cucumber. Only takes about 2 weeks for them to be right.
Also enjoyed some Chivas, and High Life.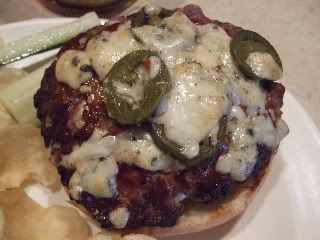 thanks for looking