Nice day sw of Chicago, lots of sun, some wind(wont stop the WSM).
Made some raspberry chipotle bbq sauce last night, turned out good, Ill post some pics of the sauce when its time to apply.
Got a slab of bb ribs from the market, and found a bonus section in he bottom of the package. Rinsed with water and whie vinegar, removed the membrane, slathered with mustard and appied my rub. Tossed them in the fridge while I was lighting the WSM.
Using RO lump, and apple.
Good to go, at 1.5 hours Ill apply an apple juice, chivas, oil, and my rub wash, and repeat every hour or so.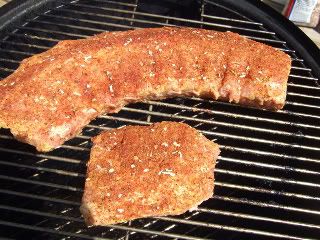 bonus item # 1:
im also doing some bone in pork chops today. Got the butcher to cut them to order 1" thick. Whipped up the slaughterhouse brine, and tossed the chops in the brine. Gonna brine them for 2 hours, and then grill them.
Bonus item # 2:
also going to grill some oysters on the halfshell. These are cold water Atlantic oysters, only doing (4) since I am the only one who likes them. Gonna grill them topped with a garlic butter mixture I made, then top w/ bbq sauce when they are done. Pics to follow as nothing interesting has happended prep wise yet.
Should be a good day.
thanks for looking