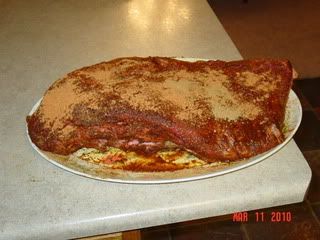 I sprinkled Rub very liberally on this 18 lb packer, put it in a bag and put it back in the fridge for the night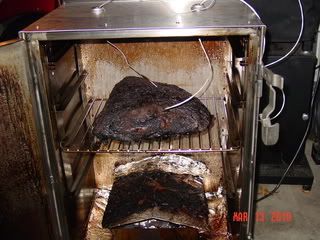 I put the brisket in the AmeriQue before I headed to work around 6:30 AM Friday morning knowing I had a full day and would not return home before 9:30 PM. I was a little anxious about it, but I really wanted to try it.
I set the cook temp to 200

⁰

and the probe temp to 190

⁰

and as Ron Popeil says set it and forget it
"
5:30 AM Saturday morning, Per the AmeriQue it had kicked into hold 50 minutes ago and the brisket has cooled to 145

⁰

.
Time to come out! The temp probes feel like they
'

re in butter and it looks good!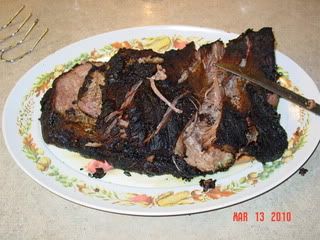 I let the brisket sit in the cooler for 3 hours before I separated the point from the flat and began cutting it up. Still nice and juicy with just a hint of pink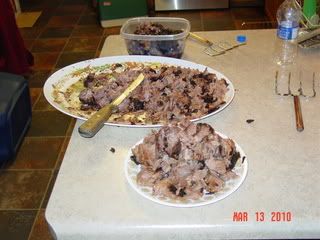 The dinner plate has all I was able to slice. The rest of it fell apart. The point was particurally tender
The tub in the back is the discard pile
22 hours smoke time. I thought the smoke flavor was a little light. The Misses liked it just the way it was, which was a huge improvement from her first comment "Eeewe! It looks like a big piece of charcoal!"
Not bad for a first try.
Now that I've read this month's Smoking Meat Newsletter I'm ready to try it again to see how much I can improve on it