The people I get my farm eggs from also raise turkeys. They process and sell turkey meat roasts, and asked if I would smoke some for them.
I was having a few friends over and decided it was a good time to try it.
I was given a 4.5lb white meat roast and a 5lb dark meat roast.
Rubbed both roasts with some store bought rub and put them up over night. I injected the white roast with a mix of chicken stock, apple juice, orange zest, rosemary and evoo before putting into the smoker.
Unfortunately I only took a couple pics. grrrr
Here is the dark meat roast.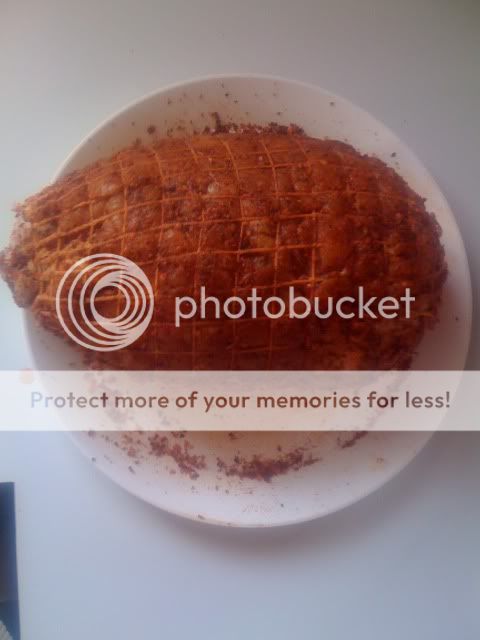 Decided to use the GOSM and pecan wood.
Put the roasts on at 11 am draped the white meat roast in bacon when it went in the smoker.
The wind was bad and kept blowing out the flame, so I decided to do a make shift mod. that I have been wanting to do for over a year...lol
(will upgrade to sheet metal when I get time and make 4 removable panels)
Here are the roasts after several hours.
They appeared to stall around 160, not sure if that is normal.
I added a dozen eggs for the last couple hours.
Ended up having them in for appx 6 hours at 225-235.
The roasts came out nice, we ate 1/2 of each one and sent 1/2 back to the farmer to try.
The white meat roast was a bit on the dry side, but not dry, and did not seem to have much flavor from the injection, rub, bacon or smoke.
The dark meat roast came out great, nice outer edge, good smoke ring and the flavor was outstanding.
On a side note the eggs came out great too, first time where smoked eggs met my expectations.
I used pecan wanting a more mild flavor, and got it, would have preferred a bit more smoke flavor for the white meat roast though.
In all, it was a great out come, next time will try brining the white meat and consider using hickory, otherwise I will keep it the same.
Thanks for looking.
Godspeed,
bigslick