I am pretty picky when it comes to the pork I eat/smoke. I will not use "enhanced" pork, I would rather go without. Luckily I have good options for fresh pork, and un-"enhanced" cryo pork where I live, althought I do have to invest time and effort to get it.
These untrimmed spareribs were purchased from a local butcher shop who gets their pork from local farms, all natural, fresh pork. It isnt cheap, this (1) slab cost as much as a 3 pack of spares @ Restaurant Depot. The taste, supporting the local butcher, and the loal farmer make it worth it for an occasional splurge..
Looks good, nice ammount of fat, and nice color. I pulled the membranem trimmed the spares down reserving the skirt, and rib tips. All will be rubbed with my rub and smoked tomorrow for an Easter lunch before we head out for a ham dinner.
untrimmed:
trimmed: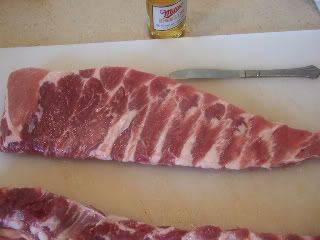 close up of the meaty tips:
I wanted to trim these tonight since I am going to a crawfish boil, and plan on getting the ribs on around 7:00 a.m. tomorrow. I may rub them down with my rub tonight if I have time.
thanks for looking, i will post pics of the smoke tomorrow.