My oldest son George Jr. and his son George III (Bubba)
came over Sunday with a 15 lb. turkey (15.74) and we boned it out for sausages;
while waiting for the ham to finish in the smokehouse!
Net yield was 3 lb. 7.5 oz. white meat and 3 lb. .5oz dark meat, or 6 lb. 8 oz. total meat/6.5 lbs., a yield of 41.29% of meat to total carcass weight. The bird cost 86¢ lb.: total cost $13.54. Cost of actual meat without the carcass was $2.08 lb.
Based on the above figures, you can plug in total bird cost and figure what your cost per pound of actual meat would be for any size turkey, knowing your yield is 41.29% of carcass weight. (To be more accurate you'd want to do 10 turkeys and average the results; this is what cutting tests are all about).
Anyways, enuff of the head stuff, now for the drool part! My son took the pics with his iPhone and sent them to me.
Dark meat on the left, white meat on the right!
Seasoned for polish sausage:
Mixed with hi-temp cheese after grinding!
On the Cabela's smoker; I gave it to him to take home so he could smoke at his house too now that I have the smokehouse: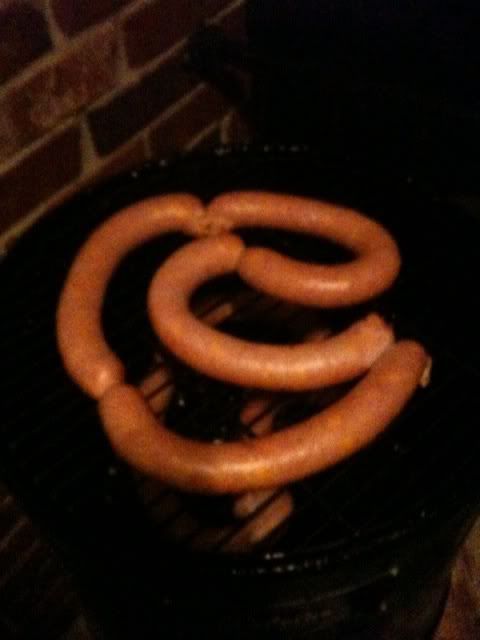 finished! This is 99% lean turkey sausage!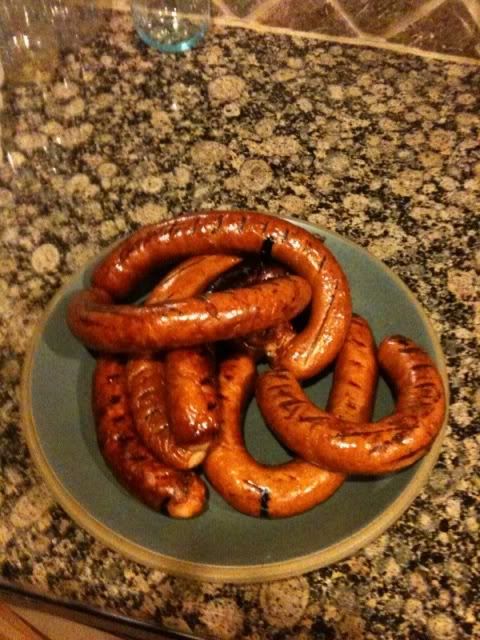 And the dark meat? We seasoned and ground it for breakfast patties; he's pattied them up and precooked them before freezing for breakfasts!
J.R. states: "We put 100% organic natural maple syrup to it, it was about 3 ounces (1/3 of the bottle), and for me that was a little too sweet, but wife and kids loved it (of course). Before I had put about ½ that much (1/6) or 1.5 oz. and I thought it was perfect.
"So probably next round I will do 2.3 oz and see if that's a good middle ground, or just do 1.5oz and patty, then mix another 1.5 and do the rest and do ½ and ½ for me and the rest of the family =)"
Plus, while we were processing the bird, we smoked some well-aged cheddars and a chub of bologna in the smokehouse once the ham was done for snacking on!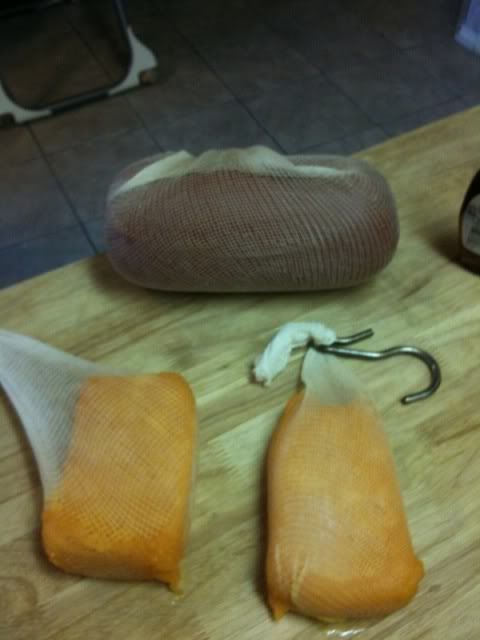 J.R. took the bologna home along with the Cabela's smoker and put some more smoke to it; it lost a lot taking the cheese in and out so he wanted to intensify the flavor. He sent me this picture of it, said it was delicious!
Gives me an idea of adding a cold smoker off the top vent... ANOTHER PROJECT TO DO! YAAYY!
Thanks for looking in on our Sunday turkey (photo) shoot!