Lurker here... I've enjoyed reading your posts here, especially with all the Qview so I thought I'd share. I've been grilling and smoking for decades but never tried butts in a modular bullet, so... thought I'd come out of the closet and share a few Qviews of my 1st pork butts in my ProQ Excel 20 this weekend.

Two 6 pound boneless Boston butts rubbed with mustard and a Ray Lampe based rub. Wrapped tightly with plastic wrap and into the fridge for 18 hours...


Lazy minion method... loaded up the basket with a half bag of the newfangled Kingsford SureFire stuff, 3 chunks of VA wild cherry and one chunk of hickory. Dug a hole in the middle and dumped about 30 hot briquettes.



Put the 1st stacker ring on, inserted the ProQ water tub filled with lava rock instead of water (better heat retention) and placed a big turkey roasting pan on the 1st rack with some hot water, apple juice, apple cider vinegar and Castillo gold rum.



Put the 2nd stacker ring on and placed the butts fatcap up in the center spaced about an inch apart.



Put the lid on, latched it up and let her do her thing smoking @ 230F...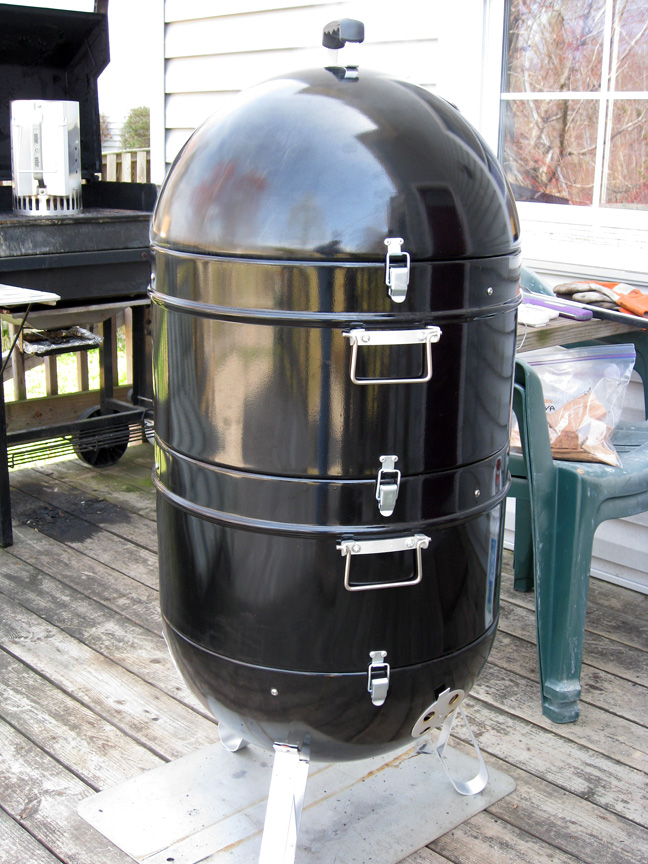 Two hours later, still smoking @ 230F, butts @ 105F... time to start spritzing...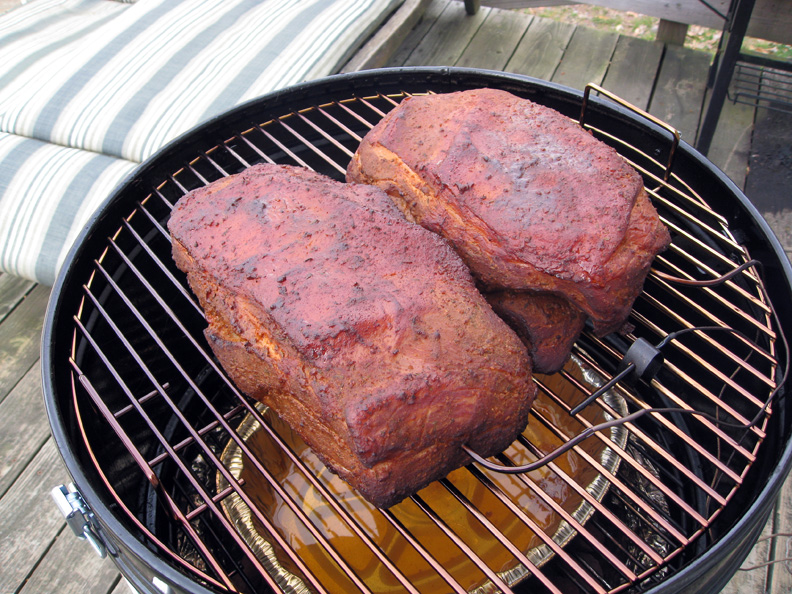 Loaded a spray bottle with unsweetened apple juice, Captain Morgan rum, apple cider vinegar and vegetable oil and sprayed every hour until the butts hit their stall...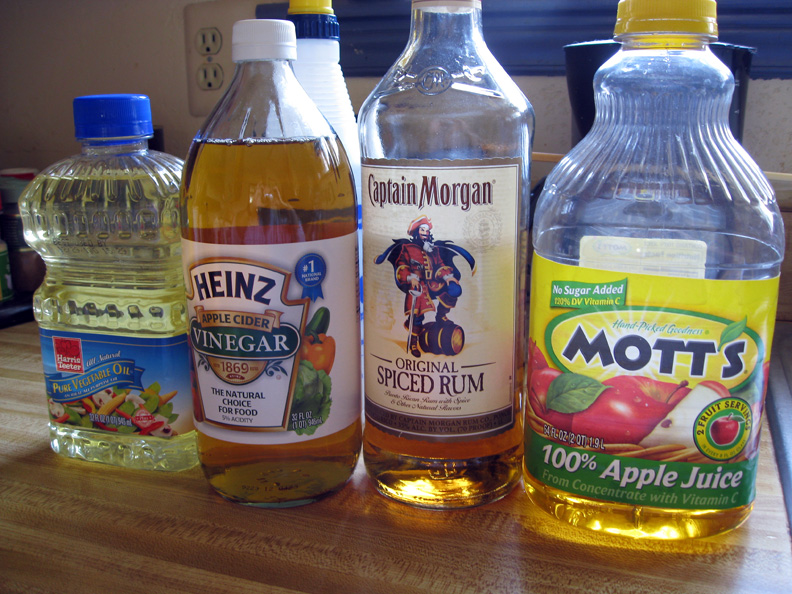 6 hours in, smoking @ a stable 230F, butts @ 153F...



8 hours in, hit the stall with butts @ 161F. This stall lasted 3 hours...



Time to switch the spritz to just apple juice and Castillo gold rum...



13 hours in, hit a 2nd stall with butts @ 172F. This agonizing 2nd stall lasted a whopping 3 1/2 hours.
Stopped spritzing to let the bark crisp up. Almost 18 hours in and butt temp finally hit 195F. Resisting the urge to pull a hunk and gorge, I double wrapped them in foil and placed them fatcap down in towel lined cooler for 2 hours.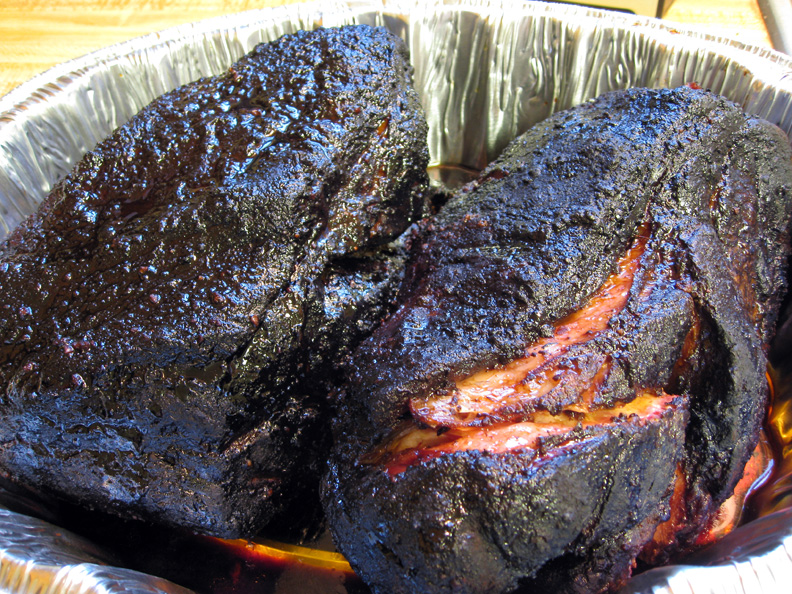 Temp shot up to 200F within 30 minutes of being placed in the cooler and slowly subsided to 186F after two hours. Pulled from the cooler and chunked to remove fat and cool for 5-10 minutes...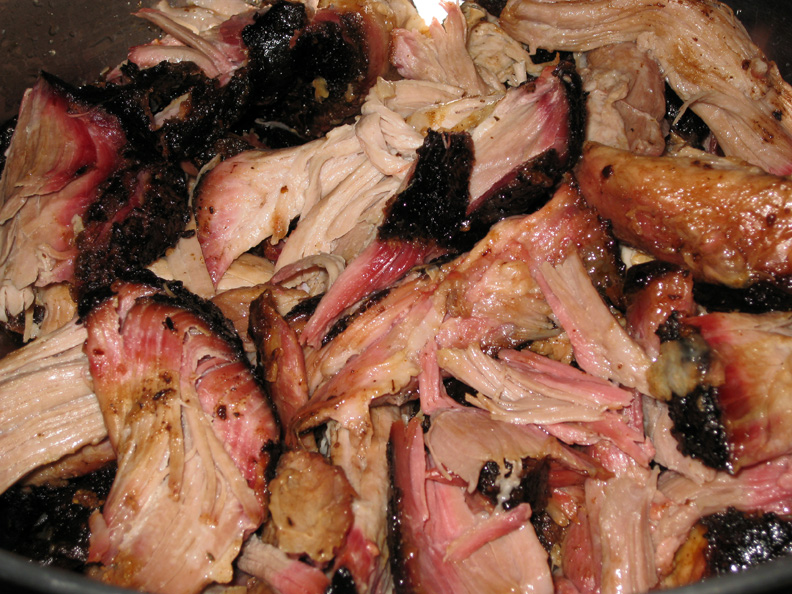 Hand pulled and tossed with a home-grown light finishing sauce...



Ahhh... the breakfast of champions! This is actually my 3rd sandwich... a 3 inch high pile on a Kaiser roll with a dollop of homemade apple pepper chutney.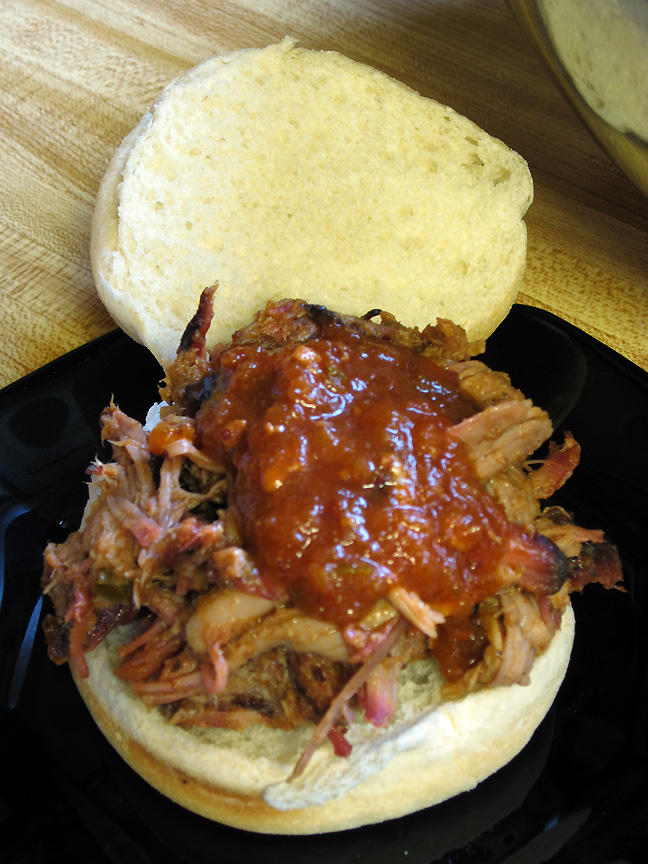 And for dinner... my 6th sandwich with homemade redskin potato salad...



I know what I'm having for breakfast tomorrow. And lunch. And dinner. LOL!
Edited by Seapup - 4/10/13 at 10:36pm