What a long week! Was in Denver Wed-Friday this week, and found out Wednesday night that I had received a lil'package from BBQ Engineer!
Finally made it home last night left Denver at 2:30, and rolled into the house at 9:30 - seven hours to go roughly 275 miles... Who pissed off Mother Nature for me???
On to the good stuff. Along with a very nice letter, here's what I found from BBQ E to me and Bassman: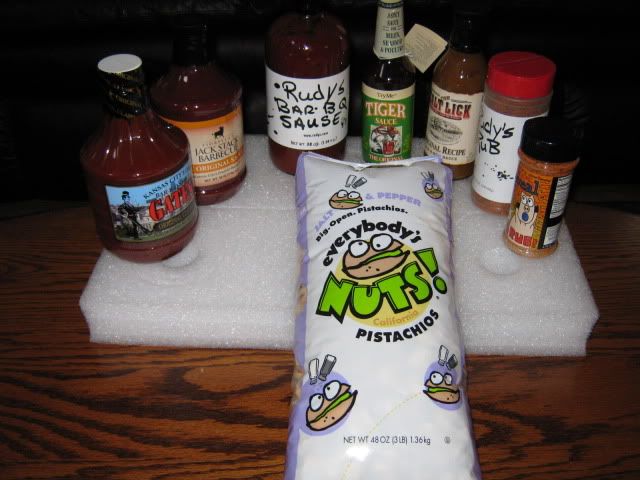 FRONT AND CENTER - woo-hoo! Salt AND Pepper Pistachios! I love the salt and pepper sunflower seeds, so I can't wait until 12:01 today cuz me, a cold beer, and those SPP's have a date!
L to R
Gates BBQ Sauce - Local KC BBQ sauce from a local shop - Gates and Son's BAR-B-Q that BBQ E recommends to anyone hitting KC.
Jack Stack BBQ Sauce - a tangy and smokey sauce with a hit of sweetness - from KC's premier BBQ joint - jackstackbbq.com
Rudys Bar.BQ Sause -
www.rudys.com
one of BBQ E's favorite sauces... haven't crack it open, but judging by the looks and the recommendation... I'll probably be ordering more of this stuff!
The famous Tiger Sauce - anything described with the words.. exotic..cayenne pepper base...touch of sweet and sour... New Orleans! - has just GOT to be good! Can't wait to hit some wings with this stuff!
Salt Lick BBQ Sauce - another Texas sauce with a mustard base made by a joint that's on BBQ E's list of 2 MUST EAST BBQ joints.
Rudy's Rub - just gotta be good on a Butt!
and finally The Squeal HOG RUB! this rub was developed by the local KC BBQ Team "Slaughter House Five" - when they won the American Royal! A great looking rub and great packaging.
Dana - you are awesome, I am stoked! and definitely set for some good BBQ'ing.
Dana also sent "extra" stuff for Bassman for the sourdough starter - can't say enough about either of them - both terrific guys in my book.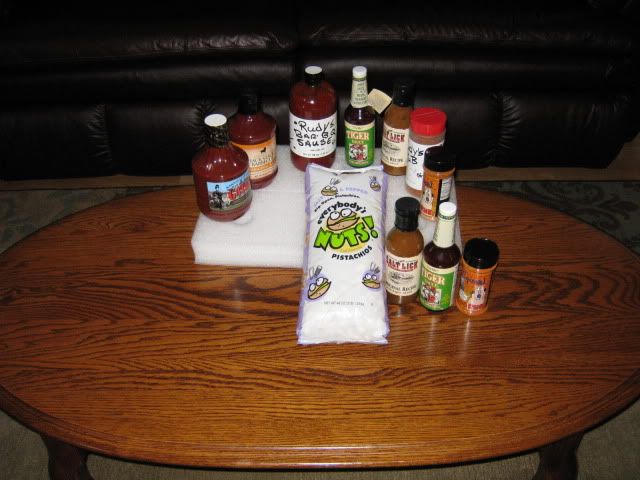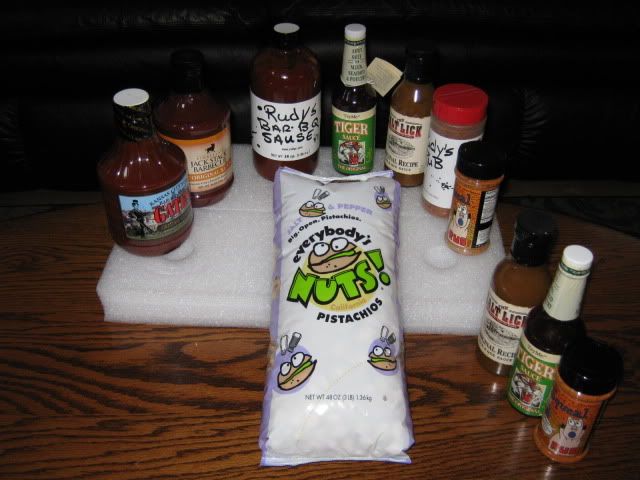 Definitely Christmas in March!
Tracey