My 1st bacon attempt was miserable and but I learned how to make some awesome creosote. I asked lots of questions and did some research on SMF to make my 2nd Bacon experience a success!
14 LBS Bacon Slabs With Skin Removed. Morton's TQ, Brown Sugar, Garlic Powder, Onion Powder, CBP, Cayenne Pepper and Baking Soda. Cured 1/2 TQ Brine Cure and 1/2 TQ Dry Cure For 7 Days. Rested 24 Hours In Fridge Before Smoke. Don't know what the "Baking Soda" actually does. I followed a recipe CanadianWild posted for his Centro(Canadian MES), and He doesn't know what the Baking Soda does either. It's his Grandpa's recipe and he follows it cuz it works for him. I'm gonna follow it cuz it works for me too!!!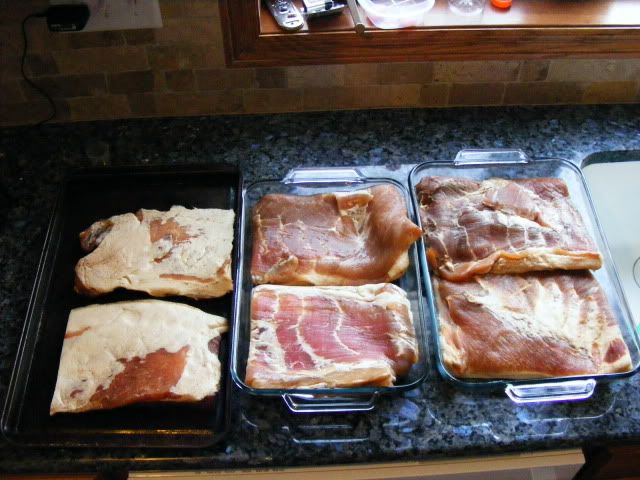 BBQ Utensil Racks Used As Bacon Hooks - $.66ea
Another View Of Bacon Hooks.
Smoked Steady With Hickory Sawdust for 6 1/2 Hours At 130 Degrees In MES.
After 6 1/2 Hours in Smoker and Rested in Fridge for 24 hours.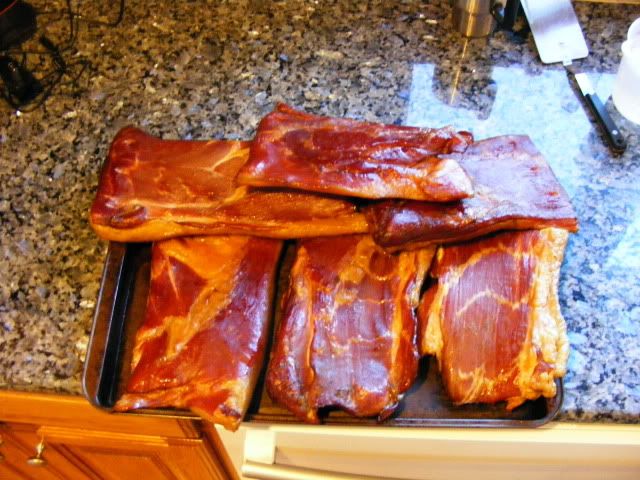 All Sliced Up!
Vacuum Sealed and Ready For The Freezer.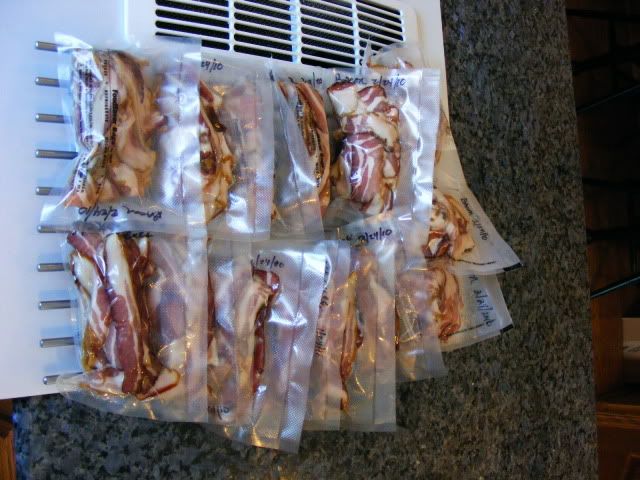 Very Happy with the results of both, but my little test showed that we liked the "TQ Dry Cure Method" a little better than the "TQ Brine Cure Method." I think the spices added to the brine cure get diluted and do not enhance the slabs as much as dry cure. We really could tell the difference.
Currently have BBB in the fridge for smoking next weekend!
This Stuff Is Addicting!!!
Thanks For Looking!!!
Todd