Well last weekend 5 of my buddies and I made our annual Venison sausage. We ended up making 230 lbs total. 125 lbs of country/cheese/wild rice, 50 lbs of spicy hunters sausage, 25 lbs polish and 25 lbs of breakfast sausage. I didn't get as many pictures as I wanted as we kind of forgot when we go busy. We don't usually smoke our sausage all the way through we just smoke them for flavor. They are still raw and will be cooked before eating. They were smoked at around 150 degrees for around 3 hours.
Here is a shot of the smoker being filled with the country sausage. I need to get more dowels so I can actually fill the thing up next year. We wouldn't have been able to fit it all in there in one batch so I didn't bother running out to get more dowels.
Another shot.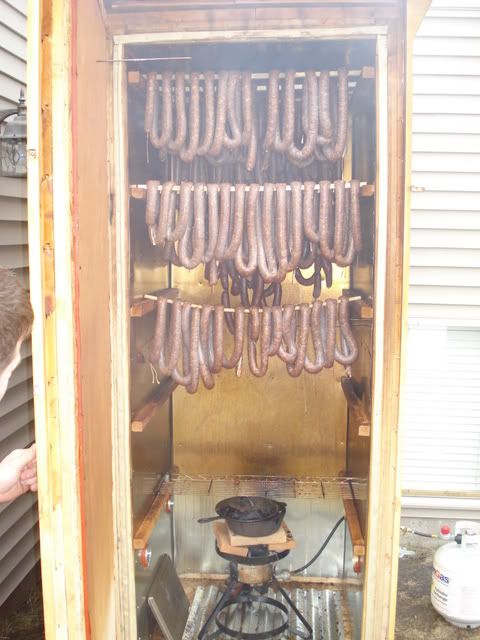 Close up shot.
A bunch ready to get to get thrown onto the smoker.
My brother wl_kb3 giving the thumbs up over a batch just off the smoker ready to get packaged.
Didn't get any shots of the mixing or packaging.