I was planning to turn out some Salami this weekend but had to make a few other palns for this weekend. Knowing I had Lendenspeck project to complete I got that out of the way.
Then I took a look in the storage chamber. Things were looking a little moldy in there and some minor cleaup was to be done. The humidity is holding around 80% with this weather we're having and the hams are coming along nicely.
While I still have the genoas drying, I'll need more Salamis to make it through the year this is for sure. So next week I have hopes to get back to that turning out maybe 10 to 15 more salamis before the weather warms.
About two weeks ago, around the 1st week in March, I gave two18 lbs fresh boneless hams each a good soak and injection of approx 500ml of amaretto. Bagged them in poly netting and hanged to dry out.
Next day I opened them up salted them good inside, back into the netting nice & tight then into the salt bed.
The third ham, a boneless 25lb beauty, I injected with approx 350ml of Grand Marnier along with a good slathering inside to hold the inner salt. I netted it up and tucked it into the salt bed with the others.
These were covered and packed with an additional 30lbs of sea salt and left to settle for the week or two.
Moving ahead, last Friday eve; I dove into my ham curing bin to check on those projects and as soon as I got the first layers from the Amoretto hams the aroma was divine. In last weeks process I added some anise and fennel into the spice mill and lightly spiced the insides before a good healthy sprinkle of gelatin the a tight wrap in netting.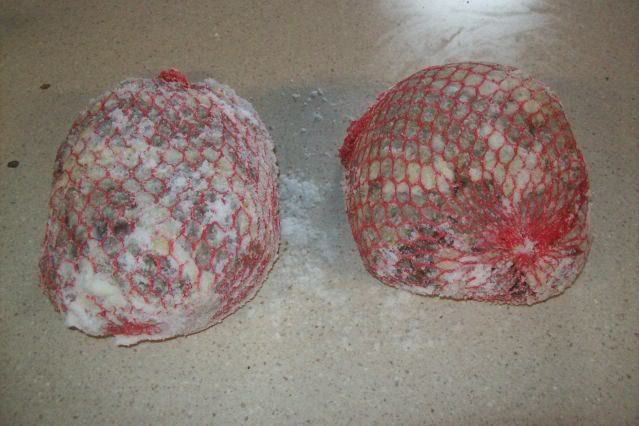 I checked on the Grand Manier (Orange flavoredCognac) infused ham as well. I think this one will be my favorite though it's going to be tough waiting a year and a half for this one.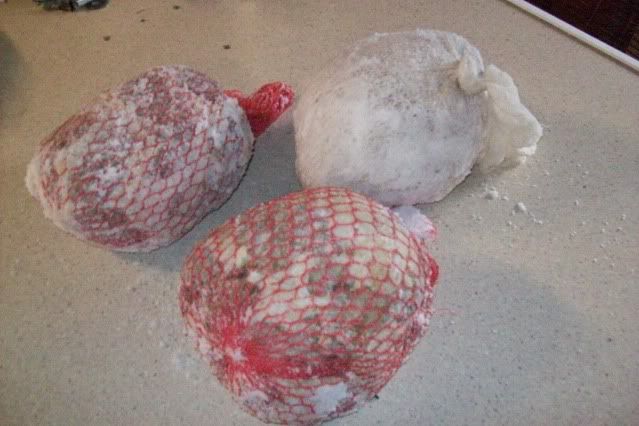 OK, enough of that...
After tending to these, everything was returned to the salt. The hams have stopped emitting liquids now so I can just continue on this salt pack without changing.
The Jamon & co will soon be ready for storage. I'm waiting out the 2 month equalization period.
Time to ease into the rest of my weekend while I'll smoke some Lendenspeck and give a couple of the previous hams another dose of smoke as well.
Perhaps I'll get some salami in next week. I've prepared two coppas for coppa copatta. I have great hopes for that one I'll have to get it comepleted by next week.
I'm hoping to get 12- 15 salamis in before the weather warms.